SHE MARRIED AT 10, HAWKED AS NURSING MOTHER TO MAKE A LIVING AND TODAY REHABILITATES STREET KIDS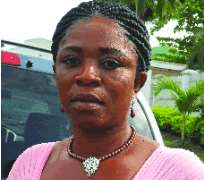 When Prophetess Jacinta Nworie, General Overseer of Christ Assurance Bible Ministry, was bundled by her parents into early marriage at ten, she felt it was for her good. But after sometime, it dawned on her that it was like disguised slavery.
She was made to cultivate hectares of land for her husband, had a child at 13, hawked to make a living and was finally thrown out to give way for another wife. She was rescued by a preacher who helped her discover that she is meant to be a cleric herself.
After her new life and turn around, she started living in a different world that enabled her discover she is to live for others, especially the down-trodden.
Today, as a preacher she lives worlds apart from her former and early existence. From the oppressed and plundered, she today rescues others who are in the same kind of situation she once found herself in.
Nworie picks kid hawkers on the streets and vows not to look at the other direction when she sees a child in such predicament. 'I was abused while hawking to find food for my children, so when God liberated me from the shackles of poverty, I decided to help others in such situation because I know how they got to that stage.'
She told Saturday Sun of her dim and ugly past and her journey to become a prophet, and most of all the passion to rescue people of her state who she said constitute a great percentage of hawkers in Lagos.
Early marriage
Just like in the olden day, Nworie was among those whose parents gladly gave out in marriage at a tender age of 10.
'I never knew what this was all about, but I could recall that my parents hailed me for being the one who will solve their problems through the money that was raised from my bride price. I was given out in marriage to an electrician who lived in Plateau State. But because I was too small, I was made to stay with my parents in-law till I was 13 years.'
While in her husband's family home, little Jacinta was made to cultivate plots of land, which she was told belonged to her husband, and was the duty of the wife to cultivate. The proceeds of the farm were sold and the money sent to her husband. 'I was made to cultivate plots of land, which my mother-in-law said belonged to my husband. At the age of 13, he came and took me to the north. With hope that my sufferings had reduced, I was totally wrong because he took me to his farm up north and encouraged me to continue as I did when I was in the village. I did my best but the yield was not enough to take care of us. From his electrical works, he made little or nothing. It was then that I discovered that I was pregnant and the women in our compound warned him not to send me to the farm again. Life became unbearable and to also support the family he took me to a woman to learn how to fry buns. After learning the trade, I started hawking it in the streets a little after I was delivered of a baby girl.'
Jacinta took to hawking buns as the only way to make a living to ensure that her newborn baby who she had at 14 did not starve. 'At a point my trainer started giving me some flour to fry and hawk. I carried the ware on my head and walked the streets with my baby strapped to my back. Later on a good spirited woman who had pity on me bought me a wheelbarrow, which made the task easier for me.'
Not minding she had a baby on her back, irresponsible men still saw her as object of abuse.
'The public abuse and molestation was much that some times the men despite the fact that you are married and have a baby to show for it would attempt to sleep with you before paying for the snacks you sold to them. I recall there was a day I had to abandon my goods and flee when a group of men lured me to a corner to collect my money. I was so clever that I never allowed them to succeed as I have heard of tales of women raped and impregnated through such devilish acts.'
Sent packing
For nine years she traversed the streets of Doma in Plateau State then supporting her husband with the returns she made. Unknown to Jacinta, while she was out hawking for a living, her husband was busy patronizing prostitutes. All seemed well for her till her husband came home with a prostitute.
'Those days the little town of Doma which was in Plateau State then but now in Nasarawa State was heavily populated by prostitutes. Married women were at the risk of losing their husbands to prostitutes. Once it is about 5pm they will flood the streets waiting for any man who is willing to patronize them. They were out to get your men. Unfortunately in 1995, one of them trapped my husband. He decided to send me back to the village since he cannot manage two wives.
His excuse was that I would be better off farming in the village. All I made in the north through hawking was taken by my husband and he sent me home with my children empty handed.'
Back in Ebonyi State, Jacinta's family was terribly disappointed that she could not stay in her marriage but returned with extra mouths to feed. 'I became a burden to my family till the extent that my mother's three sons held a meeting against me and sent me packing. They insisted that I should go to my husband's place but a neighbour known as Nkechi, a nurse decided to accommodate me after listening to me story.'
Discovered
The good friend, Nkechi encouraged her to acquire some training in nursing. 'I started as apprentice in her maternity home where I got some training and knowledge of the job.'
The yuong mother also got deep into religion and embraced Christ. As a routine she would join other Christians for prayer sessions at the mountain. In one of the church programmes she attended a man of God revealed to her that she was meant to serve as a cleric. 'Sometime in 1997 a man of God known as Prophet Cosmas Nworie came to Ebonyi from Lagos. The man has the power of God and people believed in him. A lot of people go to the mountain to seek spiritual advise. Out of the multitude, the prophet singled me out and said that God has called me to serve him. He asked me to find my way to Lagos, which I did. It was in his church in Lagos that I discovered that I had the gift of vision.'
When she became born again, Jacinta did not hesitate to travel back to the North to look for her husband who drove her away empty handed. 'I knew that my ministry will never succeed if I do not make peace with my husband by forgiving him. I brought him back and rehabilitated him. I forgave my parents because I knew that they were acting ignorantly and pushed by poverty. It was then that the Lord told me that he has given me the duty to touch the lives of teenagers who are abused. I started a church at Festac in Lagos and to the glory of God, my ministry is growing. I believe that every other person who contributed in one way or another in shaping my life is an instrument of God. If that prostitute did not drive me from my husband's house, I would have been worse off than I am today.'
Rescuing others
Apart from her church which is more of evangelism group, the prophetess has great passion for the less privileged children forced to hawk on the streets. This passion she said was borne out of her experience and a desire to ensure that no child is allowed to suffer the abuse she passed through as a teenager.
She has turned her home into a place where anyone who is lucky to come there will be rehabilitated and sent to school. Those whose parents are ready to take back returned to their home while the rest remain in her custody. 'When I pick them from the streets, I make a formal report to the nearest police station before taking them home. In some cases I would refer to NAPTIP but to the glory of God the Federal Government has given me a land where I will build a home for the rehabilitated street kids. I promised God that if He empowers me I would ensure that no child would be seen on the streets hawking. I have been there and I know that these children are helpless.'
The prophetess who hails from Ebonyi State begged her state government to see it as a matter of urgency to check the influx of children into Lagos from Ebonyi to hawk. 'Many of our people hawking in Lagos have been receiving my assistance in prayers and this is what I want to share with the incoming government. We should work out a means of bringing them back home and rehabilitate them because they are really messing up the image of the state. The entire traffic jam market in Lagos is being operated by our people. So most of them while running around in the traffic get involved in accident and die carelessly and I have been praying for them and God is really at work in their lives.'