FROM SPONSORING MY MUSIC, MY HUSBAND MARRIED ME – ELIZABETH, GOSPEL ARTISTE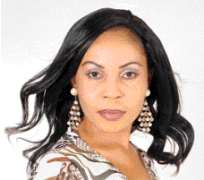 Liza C
Elizabeth Ndidi Chukwu, popularly known as Liza C, is a gospel artist. Despite her passion for music, she restricts herself to gospel which she sees as an avenue to reach out to the lost souls and the down-trodden. Her angelic voice makes the difference whenever she stands to minister. Interestingly, this same voice attracted her husband and her marriage has been peaceful. She is also a philanthropist and unique lady.
What is your family background like?
My name is Elizabeth Ndidi Chukwu but now married to Sunday Moses from Akwa Ibom. The Liza there is my own abbreviation of Elizabeth, which I use as my stage name. I am born into the family of four, two boys and two girls. I am the last. My dad is deceased, but my mum is still waxing strong. I have a Diploma in Computer Science. I am from Umuahia in Abia State.
What was growing up like?
I am from a family that is neither rich nor poor. We had enough to meet our needs as we were growing up. We all had our basic education. My daddy worked with the aviation ministry and he was one of the top chiefs of facilities before he retired. It was smooth and at the same time rough but I thank God for where we are today. I must say that the whole turning point for me was when I gave my life to Christ at an early age of 15. Since then, my life has a completely new direction.
What genre of music are you into?
I am into different genres of music, as I deem it neceesary. Songs come to me depending on my mood and I go for the genre that would best interpret it. If I find out that hip hop will interpret a song better, I go for it. If it is going to be traditional, I go for it also. So, I will say that my music cuts across but I do contemporary gospel. I can also do raggae, R&B, hip hop, etc. I am very diversified.
How many albums have you released?
Officially, I have released two albums. The latest album, Gidigba just dropped not up to a month and we will be having a release party on October 31.
How did your first album fare in the market?
The challenge most musicians face is having to get good, reliable and trust worthy marketers, that would help market and distribute the products. But we are praying that very soon, all these things would be a thing of the past. Even the government can look into it because entertainment is really big and is getting larger in the nation. So, the challenge with my first album, Unstoppable, was getting a marketer to really push it. I did my best but I guess my best was not enough. I would say that I sold more at church when I go to there to minister. My outfit that is quite young handled the marketing and distribution. This new album is going to be different because right now, I have a marketer who is going to do more of the pushing. It is not as if they are the best but the job has to get to the right places. That is the first step, so it can be a blessing to the masses.
What other challenges do you have?
Right now, I am beginning to have a different view about it, not to see it as a challenge anymore because our major assignment is not to entertain. The discrimination and the way we are being treated as gospel artistes is not just good. Sometimes, you get to a company to do a promotion and the moment they notice that you are a gospel artiste, there will be a disappointment written all over them. That challenge has always been there but for me, I have come to realize that they are two different things altogether. If you are into the secular thing, anything goes because there is no standard. You can do anything and get away with it but when you say that you are a gospel artiste, your direct focus is the spirit man. So, it goes beyond just entertainment. If our job is mainly to bless, inspire and bless lives, the entertainment aspect, even though is part of it, then we shouldn't see it anymore as a challenge but rather as a ministry that has to be sacrificed for. Sometimes, people run away from the truth but the difference between us and people that do the secular thing is that we have the spirit of truth.
Is there anything you think the church should do to assist gospel artistes?
In fact, church matter is difficult. I am a church girl and as I am talking with you now, I am one of the music directors in my church. The church is lagging behind. They have not really been encouraging at all. They would want you to remain in the church to do the choir thing. They don't see you making money out of your gift. They have failed to see it as one's profession. Like me, I am not just a chorister, professionally, that is my career. I sink money into this to do my production and I expect to eat the labour of my hand. So, if they can see the music minister beyond just the church affair and also support them both in buying the CD, it would be better. And when they come to ministering in the church, for God's sake, they should be paid. The church still has the mentality of freely you have received and freeely you should give. If we keep giving freely, how are we going to survive in this nation. I think the church should begin to see us as theirs and help to encourage the talents and make sure that they go out to shine. The church should not just be all about preaching, they should devise a means of helping their members who are talented.
What motivated your career?
Two things motivated me to go into music. One, it was just a deliberate act on my part. It is something I decided I would do. I believe that it is what I am called to do. The other part is that a time came in my life that I knew God wanted me to do it. It is a call upon my life. When I tried to do other things, I found out that I was struggling a lot, but if it comes to writing, recording music and ministering, I see God in action. Moreover, I really love to see life encouraged and impacted positively.
What are your achievements?
The most important and the dearest in my heart is the fact that I go out to sing, whether it is to entertain or to minister, depending on the occasion, people get back to me to say that I blessed their lives. They would confess that they have not seen it in this form, that my songs are really encouraging and challenging. It gives me a whole lot of fulfillment. As for the monetary aspect, it is not coming as expected. I should be earning more than my income now, but I know it is a process. That notwitstanding, God is faithful. Little money has been coming in and I hope that my new album will be the hit that would put food on my table and money in my pocket. So, the lives that have been changed and impacted positively and the feedback I get here and there, have been my great achievements.
How much support do you get from your husband?
My husband is my strongest fan and he believes in me as much as I believe in my music. The same tenacity and strenght that I put into my music is what he puts but the difference is that he cannot sing. He is not a fantastic singer but he so much believes in my career and that is why I am where I am today.
Where did you meet him?
I met him in my church. He was not a member then but he was visiting. I am one of the key singers in my church. So, that day, I was singing and he was there. After the service, he walked up to me and asked if I have something that I have recorded that could be taken home. I told him I had been waiting to record because the songs were ready. He said he was going to sponsor me. I thought it was one of those talks I had been hearing. When I saw that he was unique, although, that is one of the unique striking point he has, I allowed him to sponsor the recording. He is so transparent and keeps to his words. And that was how it started. From being friends and partners, he sponsored me to his house.
What attracted him to you?
He said the day I was ministering, he told himself that I am his wife. But for me, I did not see any husband material in him. I was just thankful that God has brought a sponsor. My friends were all telling me not to lose him but I was not interested in him. At the end of the day, he proposed but I refused. But to avoid problems, we went to my pastor and he asked him if the marriage was based on his sponsorship but he said no. We settled everything and he said he was only helping me and that he would not have anything against me even if I refused to mary him. It was that statement that touched me. So, I began to see the transparency and geniuneness in him but already, I had a dream man.
My kind of man was flashy but sometimes, you may not know that the qualities you are looking for is in a man but the person's physique does not show it. Now, I always wonder who else that would have married me to tolerate and love me the way he does. We have been married for seven years without children yet, it is not an issue. There is this peace we have that I don't understand. Sometimes, I tell myself that if I had gone for the dazzling guys that were around then, maybe, it would have been a different thing by now. Maybe the marriage would have broken up or he would have impregnated another woman. For us, we know that we are going to get through this together. He is more to me like a friend, not a husband. It is so funny that if I go out and somebody toasts me, we will discuss it. If he likes a girl, he will also tell me that such a person is not bad. We are just close and I thank God the way it worked out.
What has kept the marriage going?
It is God's grace. If there is somebody that has enjoyed God's grace in marriage, I am the one. It is not easy especially when you marry someone that is not from your tribe and there is a delay in child bearing. There is no other way I could explain that other than God's grace. He just kept people away from us in order that we have peace. Our mothers are still alive but all you can hear them say is that they are still praying for us. It is not as if our marriage does not have challenges but we manage it well unlike when you see couples quarrel and fight that people get to know about it. We are not perfect but it is just working for us with little efforts. It has got to a point that we trust ourselves that if he sees me with men, he would not think of anything negative.
How many children do you want to have?
I want to have three children twins-first, a boy and a girl. Then a girl last.
Have you discussed with him?
Yes. We have agreed and named them. We have Daniel, Nicole and Isabel.
What pranks did you play as a little girl?
I was and still stubborn. In this life, you don't have to allow everybody come and talk and you take it. If not, they would kill you. You need to have a mind of your own. So, somehow, I grew up to channel it well. I don't have to be rude but as for being stubborn, yes I am. Even my husband has come to apreciate it because at first, he was telling me that the only thing he wanted me to stop was my stubborness. But now, he is encouraging it because he is on the soft side. He is an opposite of me, very accessible, gentle, tenderhearted and humble to the core. But I will ask you 10 reasons things are the way they are. Now, he has come to see that it is a strength that should be in our home if not, anybody could walk in, sit down, talk or do whatever he or she likes.
What would make you fall for another man?
I have never dreamt, seeing or imagining myself falling for another man. I see it as a mission impossible not because I am a super woman, but there are some things I have settled with God while growing up. There are some processes God would take you through and you find out that there are things you won't want to do. Not because there are no opportunities but there are some things I have settled. If it is money, I am content with what my husband gives me. Right now, I don't have a car of my own, except the family car and it is not that I have not met men that can buy it, but I cannot sell my birthright to what is on earth. Heaven is my ultimate goal and not stardom. It would come and I am already a star. I don't have to prove a point. So, that I have resolved and settled and God has helped me to stand by it.
What do you have at hand?
I run a quarterly concert tagged, Liza C and friends. The idea behind it is to get people to further propagate God's gospel away from the normal church setting. There is entertainment, comedy and a lot of dancing. It has been wonderful. I started it in 2008. The last one we had featured kaffe, Tosin Martins, Shegun Obe, Pastor I.T and many more. We will be having the next one on 21st November. We normally use my church auditorium for the concert. The one at hand is my album launch and we hope that by 31st of this month, we will be doing some razzmatazz. I want something cool and interesting that would be more of a media thing. It will be like an album listening event and a party to go with it.