Nollywood actors are afraid of exploits — Emeka Enyiocha .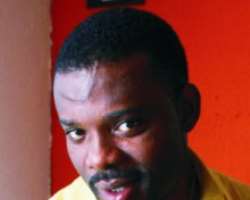 He came into the Nigerian motion picture industry and excelled within a few years. But Emeka Enyiocha has been out of the screen for some time now. He tells AMARA OSAJIUBA what he is up to in this chat.
RECENTLY, you became scarce in the home video, did you quit acting or you went behind the camera?
You see, one thing about this industry is this, at a stage you are everywhere and you think you are making the money but by the time you sit down and calculate it, you will find out that you are not making anything but just doing a particular thing and when you increase your fee, and they stop calling you and because you don't have any other thing, you will have to go back to your normal fee. But if you have something doing you can say this is my fee and if they don't give you any job, you don't bother. Actors and actresses are always scared of taking up something else to do because they don't want to be sidelined and they don't want people to think that they cannot be reached anymore. I decided to get my own productions outfit because almost all the money you make acting is being spent immediately even when you are still on set. For two years I have not been on set, I have actually earned more and not sitting down and allowing someone dictate my life for me.
So how many works have you done since you started your own production outfit?
I and my partner have done three productions now. We did the Patriot which is a National orientation programme that helps educate Nigerians on fake drugs. We also did another one called School which is talking about the rascality of the children from wealthy home in school and the third one called Champions Of Our Time which is a physically challenged movie, is a future movie that will be shown on silver bird cinema by the end of November and it was done in collaboration of the Lagos State government.
The year is almost ended, what would you say your achievements are this year?
Well, I have achieved life because I have a good life, I have achieved a good family because I have a wonderful family and I have been able in my own little way to put smiles on the faces of people around me.
What are your plans for next year?
My plan for next year is to continue where I stopped this year.
What do you think your challenges will be while trying to achieve these plans?
Everything is a challenge; your environment alone is a challenge, even the success of whatsoever you want to do is a challenge because you must pass through a difficult period for you to increase and that will give you an opportunity to learn and go higher but if you don't pass through that, you cannot increase
We are yet to hear a music track from you or did you decide not to venture into music like some of your colleagues?
Well, I don't think I have the talent, I don't just do something because people are doing it, what I do I do it well and it is better I don't do it than doing it and start running from pillar to post.
As an actor and a producer, would you say Nollywood has done you so good?
Yes, honestly, that I am Emeka Enyiocha today is Nollywood because it's like when you come from a no place though it must have taken you a lot of years, but the money comes suddenly and rapidly which is how blessings comes from God and it will make you to erase those moments of darkness.
What do you think is the reason for the so much divorce between Nollywood stars and their spouses?
The environment and secondly the understanding, you see, People do not know that marriage is the most difficult institution on earth. These actors and actresses are human beings, for example, if I get to my home, stardom dies and I become me. I respect women but they are very difficult, every woman is different from the next woman. You cannot understand a woman and even when you do everything, there is still trouble so you cannot satisfy a human being. Bear it in mind that when they say human being, they are talking about women. It has nothing to do with your possession, it is just about that specie called women but most times, maturity also come to play because when you are mature, there are certain things you will see and ignore but when you are not mature, you take things the way they are. The divorce has nothing to do with stardom because these people are human and are not perfect. All we have to do is to pray to God. Ego is another problem in every relationship especially when you feel that nobody can tell you what to do but when you have it at the back of your mind that you can only hear the worst thing from your close friend, then there will be no problem. Not that you will not react, you will react but to an extent.
So how do you intend to protect your own marriage from crashing?
The most important thing is that at the back of my mind, I know divorce is not an option because we have agreed. Honestly it is not easy, marriage is difficult, it the most difficult thing you can ever venture into and if you are not married, start thinking of that. It is not a bed of roses. If it a boy friend and girl friend relationship, you can walk out but since it is marriage, you are going nowhere. You should have at the back of your mind that as you are leaving your spouse, you are meeting worse people so the best thing is to remain where you are. There are some people that are good but even in that their good nature, you will still encounter problem. Divorce is not the option.
Do you have the plans to quit acting?
No, I will not, instead I will go into directing.
What is your dress sense?
I love looking good and my clothing line will soon be out but I just love looking good.
What really keeps you going in the field?
What keeps me going is that Nigerians have started changing their perception. Because it is change that we need and it is change that we will get. That is what keeps me going.
Your relaxation point
I relax while working. It is unfortunate that I am not giving much time to my family, but thank God they understand, thank God there must be food on the table. I am not an outgoing type, most people think I am outgoing in nature but I am a home person, I do everything that an average man don't like doing, I go to the market and cook when I want to, I buy food stuff because I am trying to become better as a husband.