2011: Ndudi Elumelu's Big Gamble As Constituency Rejects Re-Election Bid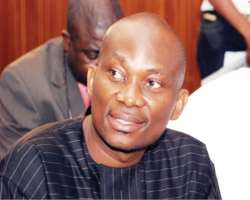 PHOTO: MEMBER HOUSE OF REPRESENTATIVES, HONOURABLE NDUDI ELUMELU.
ASABA, Oct 17, (THEWILL) - If the news spreading like wide fire in Delta State over the alleged bullet proof SUV gift to the state PDP chairman, Chief Peter Nwaoboshi by the embattled politician representing, Aniocha North/Aniocha South/Oshimili North/Oshimili South Federal Constituency in the Federal House of Representatives, Hon. Godwin Ndudi Elumelu is anything to go by, then Elumelu may have started bribing his way to retain his seat come 2011.
Hon. Elumelu, former Chairman, House of Representatives Committee on Power and other persons are facing 65-count charge bordering on defrauding the government in the Rural Electrification Agency project brought against them by the Economic and Financial Crimes Commission (EFCC).
A reliable source in the office of the state PDP chairman, Chief Nwaoboshi, who opted to remain anonymous told our correspondent that Chief Nwaoboshi and Hon. Elumelu are very close courtesy of the huge patronage extended by Elumelu adding that considering the PDP state chairman's antics, there is no doubt he may have gotten the SUV and benefitted from several contracts from the Rural Electrification Agency before the scam at the agency became public knowledge.
In January this year, the embattled politician imported two amoured plated bullet proof SUV vehicles through Port Multiservices Terminal Limited, PMTL, one of the private Terminals at Tincan Island Port built on the basis of build, operate and transfer, BOT, by Grimaaldi Shipping Line Nigeria Ltd without paying the correct Custom Duty to government until agency got the vehicles impounded.
Speaking to our reporter, weekend, in Iselle-Uku, headquarters of Aniocha North council area, member of the local government PDP executive stated that: "Hon. Elumelu is bent on returning to the Federal House come 2011. But my fear is that in spite of all the monies he is spending to appease the state PDP leadership and others, it might be a waste because even the PDP know that it is the turn of the Oshimilis to occupy that position in 2011.
"We heard on a strong authority that he bought bullet proof jeep worth millions of naira for a member of the state executive of our party just to earn him the second term ticket. We know too well that the executive member who got the jeep is known for such illicit games but I assure you when the bubble shall burst we shall know where we belong," the party member said under anonymity.
Investigations revealed that, Hon. Elumelu who is been rejected by his constituency for lack of performance has allegedly started doling out huge sums and gifts to those that matter in PDP headquarters in Abuja hoping they can influence his return to the House for a second tenure.
In Delta in April last year, he gave out nine (9) brand new Kia Cerato Cars worth millions of naira in support of the realization of Governor Emmanuel Uduaghan's second term bid come 2011, a move seen by many as a ploy to appease state governor Emmanuel Uduaghan.
The cars were received by the Uduaghan Vision, a political pressure group for the re-election of Governor Uduaghan during its inauguration of the Aniocha/Oshimili Federal Constituency chapter.
One of the recipients of the cars, who confided in our reporter in Asaba, disclosed that Elumelu's gesture was informed when it became clear to him (Elumelu) that the people would stand against his second term bid.
An impeccable close source to Hon. Elumelu while confiding in THEWILL at his (Elumelu) campaign office opposite the state police command, Asaba disclosed that: "Because of my way of playing the game of politics, people find it so difficult to understand me. Honestly speaking, time without number, I have advised Hon. Elumelu to drop his idea of second term since there is an existing agreement between him and the people but he refused to listen. His problem is that he hardly listens to good advice. I must be fair to you; it is now the turn of the people from Oshimili to occupy that position for 2011."
Investigations carried out revealed that Hon. Elumelu may have purchased the cars donated to Uduaghan's re-election bid from the proceeds gotten from the Rural Electrification Agency (REA) scam which he and others are currently being charged for.
It would be recalled that barely six months after Hon. Elumelu gave out the cars worth millions of naira he was quizzed by EFCC and others for allegedly siphoning about N5.2 billion from the coffers of the Rural Electrification Agency domiciled with the Central Bank of Nigeria in the guise of paying over 65 alleged fictitious companies that were purportedly awarded contracts for Grid Extension and Solar Electricity project.
The member representing, Anoicha North constituency in the Delta State House of Assembly, Hon. Victor Ochei during his declaration for re-election at the Pilgrims Baptist Grammer, Issele-Uku, had strongly warned that any attempt by the incumbent House of Representatives member to return to the House or any body from Aniocha North would be resisted by the people because according to him it is the absolute turn of the Oshimilis to present a representative.
The comments of Hon. Ochei who is a close associate of Governor Uduaghan and Dr. Ifeanyi Okowa, a former SGG, shows that Hon. Elumelu might not be enjoying the support of the state governor.
Hon. Ochei also stated that it has been conclude that Dr. Ifeanyi Okowa is the choice of Governor Uduaghan and the people of Delta North Senatorial District come 2011 but as for the Federal House of Representatives, the caucus is yet to decide on a candidate adding that it will be a doom if the Oshimilis are denied the position.
It was also revealed that the people are not happy with Hon. Elumelu as a result of his inability to attract any people –oriented project to his constituency despite all the money he got for constituency projects.
However despite all his boasts that no one can stop him from returning to the Federal House in 2011, Hon. Elumelu's chances are so slim following his current prosecution for fraud.
All effort to get comments from Hon. Elumelu and Chief Nwaoboshi on the alleged bullet proof SUV issue and related matters proved abortive as they refused to pick calls put across to their mobile phones as well as respond to text messages sent to them.