POLITICS KILLING NIGERIAN FOOTBALL – ODOBEATU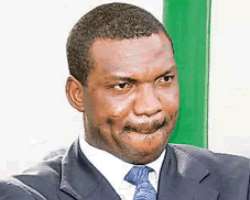 Eguavoen
Super Eagles' lacklustre performance in recent times has continued to draw criticisms from Nigerians and lovers of football the world over. And the first Vice President of Nigerian Swimming Federation (NSF), Mr Anayo Joseph Odobeatu, has lent his voice to this fact after last Sunday's Eagles' disgraceful outing in Conakry, Guinea, against Syli Nationale in a 2012 Nations Cup qualifier.
'I was not satisfied with the pattern of football Eagles adopted in their match against Guinea last Sunday,' Odobeatu began 'It's a shame that Nigeria would be shaking like vegetable while playing a country like Guinea in a match. What we saw in last Sunday's match was disappointing. It was not what we expected.
The Eagles coaching crew need to do something fast to save us from further embarrassment.
'There were a lot of lapses in the match in Conakry and the players were the worst culprit. They have never shown any sign of commitment to the Nigerian team in recent time, their pattern of play was not impressive at all.'
The managing director of O'Jez Entertainment Centre continued: 'It is not the duty of the coach to enter the pitch with the players during matches. But from my observation, we don't have a team yet.
'Go and watch the La Fury Roja of Spain, you will discover that the team has pattern for everything on the pitch – pattern for scoring goals, pattern for attacking the opponents, even pattern for defending the ball. That is not the same with the current Super Eagles' squad. The team played without any pattern as we saw it last Sunday.
'I have said it before that everybody must not be a coach. The sad thing is that Nigeria hates putting the right people in the right places. We play politics in everything including football. Because of politics, right people are not given the opportunity to handle the national team. 'Our leaders should stop playing politics with our football. We all know what Coach Samson Siasia did with our junior national teams he handled in the recent past. So, I had expected those at the helm of our football management to have handed the Super Eagles to him and watch him deliver the goods with their support.
'But you can see the politics playing out on who handles the Super Eagles. Don't forget that Siasia was sometime ago announced as the one to coach the senior national team. When that pronouncement was made, Nigerians were happy that something good was in the pipeline. But sudden, the football authorities reversed gear and asked the public to apply for the job, and up till now, no headway has been made. This type of scenario is what usually pushes us into making last minute preparations any time we have serious championships, meanwhile, it has never helped us in any way.
'Nothing would have stopped us from winning the match against Guinea last Sunday if we really know our onion. The Guineans were not fantastic after all. But looking at the pattern of play the Eagles adopted in that game, nothing positive could have come out of it. 'I think Siasia must have by now developed a pattern for the senior national team. I suggest that we should give him a trial,' Odobeatu continued.
The first vice president of NSF further suggested that he would want our football authorities to put things in their right perspectives to avoid fire brigade approach in preparing the national team for future championships. 'We should learn to do things right. Other countries that do well in football do not have charms; they only plan their programmes and follow them religiously. They only alter their programmes when there is need to do so unlike in our case where we operate without any programme most times.
'In fact, we should put our house in order; it is already long overdue. We should stop experimenting with all manner of people and get somebody contracted now to handle the national team. That person should be given a mandate to take Nigeria to the Nations Cup in 2012. That will help us to assess him and if he performs well, he can then lead the country to the World Cup in 2014.
'Meanwhile, we should appreciate state governments, corporate bodies and individuals who are supporting sports in the country.
Sports is one instrument that is holding the country together, especially football. With sports, the country's image is laundered in the international community. Above all, it creates jobs for the teeming army of unemployed youths in the country.
Odobeatu also appreciated Nigeria's effort at the Commonwealth Games in India. Though he said: 'Before the Games, I heard people saying that Nigeria would surpass South Africa in medal hauls at the Games in India, but the question remains, what were the measures we put in place to achieve the dream?
'Most of the athletes that won medals at the Olympic Games achieved their feats based on individual efforts, not because there was any programme they followed before the Games.'