OLUNLOYO BOMBS NORTHERN LEADERS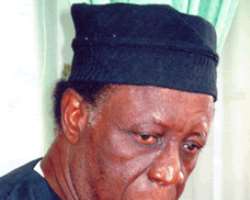 Omololu Olunloyo
Septuagenarian former governor of old Oyo State, Dr Victor Omololu Olunloyo, is not your typical every day politician. Call the mathematician a maverick and you might not be far from the truth. He became a commissioner at the age of 27 and by the time he was elected governor in 1983, he had held five different government positions, including one that placed the entire Ibadan land at his disposal.
He lost his father in December 1948 when he was just 13 years old, but that setback didn't stop him from securing a PhD in Mathematics from a London University in 1961.
In 1983, Olunloyo ran for the Oyo governorship on the National Party of Nigeria (NPN) platform, and against all odds defeated the incumbent, Bola Ige of the Unity Party of Nigeria (UPN). He assumed office in October 1983 only to lose the seat three months later in December following a military coup. After being banned by the government of General Ibrahim Babangida as one of the old breed politicians, he joined the Peoples Democratic Party (PDP) at the restart of the Fourth Republic in 1999.
In this interview, he dismisses the position held by northern political leaders on zoning, an issue that is presently rocking the PDP. Olunloyo also warned that the nation was gradually drifting towards disintegration. Excerpts…
How will you describe the ongoing controversy in the PDP over zoning?
It is a very complicated issue and I am very shocked at the level of bitterness that has attended this controversy. There has been a lot of heat but very little light.
Some politicians in the North wrote a letter to the PDP national secretariat asking that the incumbent President be stopped from contesting the 2011 election on the basis that there was an agreement on zoning in the PDP. Alhaji Adamu Ciroma and five others jointly signed the letter. I don't feel happy with that letter.
But in that letter, they made a case why the North must produce the president for the next four years…
(Cuts in) That is a completely useless case. The letter was written within the ambits of the constitution of the PDP. I have studied the matter and I realised that the position they are advocating is totally useless and the letter was faulty and inaccurate. I will say that the letter was designed to foment trouble.
I don't like the tone of the letter; it is like a threat. One thing I saw in that letter is that it is about the North, the North and the North. All the writers are from the North and it was written from the narrow perspective of the North. But there is a flaw in that letter that made it perfectly useless; talking about zoning. They claimed that something was zoned to the North, but this is a howler. The North is not one of the zones in the PDP.
What do you mean by that?
What I mean is exactly what I said. The PDP constitution recognizes six zones and the North is not one of them. The North is a region. The constitution talks of South West, South East, South South, North West, North East and North Central. Nowhere was the North mentioned.
Section 7(2c) that the Ciroma group quoted does not save the letter either. The policy of power rotation and zoning of the PDP, like that of its predecessor the defunct NPN, was not worked out. It is a potential policy; it is not an actual working policy. It is dishonest because if it were a honest policy, it will state who is zone 1, who is zone 2, who is zone 3 to zone 6. But this document did not do that.
The Ciroma letter also gave the impression that each zone should have eight years. I don't know who told them it would be so. Olusegun Obasanjo was lucky to have spent eight years. He could have died, he could have been impeached or he could have resigned.
A zoning policy must state clearly what will happen when somebody is impeached or when he dies or when he resigns. Can we begin to say, like in Ibadan that the governorship of Oyo State was zoned to Ibadan in 2003 for eight years, and after Ladoja was impeached and the impeachment was cancelled, it should still have been zoned to Ibadan and that nobody from outside Ibadan is eligible to contest the Ibadan ticket? Such rubbish!
Another thing is I don't like the irreverent manner they address this President. Maybe it is because he is from the minority and I know they cannot talk to any body from one of the three big tribes in the country the manner they talk to President Goodluck Ebele Jonathan. They talk so rude to him and I don't like it one bit. The president has moved through the levels of governance.
What made him the substantive President is not the PDP. It is the inexorable force of the Constitution of the Federal Republic of Nigeria. If they had their way, the PDP might have said they should go and bring a substitute for the late (Umaru) Yar'Adua from Katsina. But the Constitution doesn't allow such nonsense. We are willy-nilly compelled that the next President has to be the sitting Vice President.
The President told them that his office and that of the Vice President are not zoned in the PDP. I will go further by saying that the PDP lacks such power.
They cannot even do so if they wished.
Let's look at a scenario where PDP leaders will sit at Wadata Plaza and say we are zoning the Presidency to the North East or to the South East. What that means is that only candidates from that zone can vie in their primaries and they would exclude aspirants from other zones. But that does not guarantee them winning the election because PDP is not the only party in Nigeria. What if another party decides to choose say Gen. Muhammadu Buhari and at the general election Buhari wins? What purpose has the PDP zoning played? It is of no use.
They cannot tell the people of the North East that they have had their turn. When Obasanjo contested in 2003 for a second term, Barnabas Gemade from the North Central contested and (late) Abubakar Rimi from North East contested too.
It is not that the PDP doesn't have a zoning policy. The word 'zoning' is in its constitution but they have never spelt it out, so it is not a workable policy and therefore makes it null and void. The nation's presidency is not a chieftaincy title. It cannot be taken away until all the ruling houses have had their turn. The PDP zoning matter is an internal thing and they have no guarantee that it will go round all the zones before their success is punctuated.
What if the Alliance for Democracy zoned the governorship to Oyo South where Lam Adesina is and he wins and then comes back to say Oyo South is yet to have its second term? What could have been the second term was what Rasheed Ladoja used under a different party. A proper zoning policy will say the number of zones and the order the position should rotate.
Is that what you see as missing in the PDP constitution?
It cannot be there because it is beyond the PDP. If they say zone one, zone two, zone three and they are beaten by another party at the general election as zone three is about to have its turn, what do they do? Will they say that zone has had its chance?
Will you then agree that Ciroma and co are justified to insist that the North should produce the president for another four years because Umaru Yar'Adua ruled for just three years before death took him away?
It is not a matter of their son. Yar'Adua is a member of the PDP from the North West. The North is a moribund old school amalgamation that does not exist. There is nothing call the North in the PDP constitution. It is rotation among zones that exists. It is not rotation between North and South. If one allows the type of this Ciroma letter to go into the psyche of the people, then they can just choose people from the same place.
The Ciroma group got so many things wrong. They are asking that a substantive President should not take part, but they have forgotten that the only condition for a sitting President not to take part in an election is if he has exhausted his mandatory two terms of four years in office.
The argument of some people is that the President should not contest now but in 2015
Why should he wait till 2015? There are two ways power can shift. The PDP as a party can do it and power can also shift by itself. When Yar'Adua was elected President after Obasanjo's eight years, power shifted from the South West to the North West. But when Yar'Adua died, power shifted to the South South even without the consent of the PDP. The PDP was powerless in the matter. The PDP is in the minority when the power shifted. It is the force of the (Nigerian) Constitution that took over. Interestingly, the whole nation is watching the PDP and they need to know that it is not the PDP that made Jonathan President. It is the force of the Constitution.
So it can be said that the presidency that Jonathan is enjoying is divine power shift?
It is not divine power shift; it is a constitutional power shift.
But if Yar'Adua were alive, we would not talk of power shift
Nobody is ever around forever. Every mortal like you and I will die at a point in time. People die and they kill people like they killed Bola Ige.
What do you then make of the threat by the North that the PDP will pay dearly if the party jettisons zoning?
That is Ciroma's idea. He is too experienced and nationalistic to be saying things like that. He cannot just behave like the ostrich. He is thinking we are still in the 1914 amalgamation era. They should have said that zoning is between North and South, but the PDP constitution says power will rotate within the six zones. Ciroma's letter is totally vitiated and ruined by this North, North, North thing that ran through it.
Unfortunately, Ciroma's family has contributed so much to Nigeria's development that he should not be found where this country would be put on edge. His brother, Liman Ciroma, is a fine gentleman. Ciroma should not be found saying irreverent things like that about Nigeria. Suppose PDP disappear as a political party? I know some people won't mind that. He should be talking on issues that will bring the people together like corruption and power.
The northern elders also called on the National Assembly to commence impeachment proceedings against the President because of the poor security situation in the country
They cannot do that. What is the security situation in the country? Have they been to the Niger Delta before? They should go and see the rape that is going on in that place. All these violence is well known in that place. I hope no one will play around with the Ijaws. Power has shifted to the Ijaws and they should be allowed to enjoy it for the time being. This country was not made for the WA-ZO-BIA people alone. It is for all ethnic groups and everybody must be allowed to get to the peak of the power of this country.
Kuwait used to be part of Iraq and one day they decided to part ways. I hope we would not provoke the people of the Niger Delta to take the Kuwait option? If the Ijaws decide to go their own way, they will get support from so many countries. Many of these foreign nations are not interested in our history. They want oil and as far as they can get it they won't mind.
Are you saying we should allow the Ijaw to enjoy power for some time as the Igbo, Yoruba and Hausa had done in time past?
Yes, they should. In 1957, oil was found in Oloibiri. At that time, the people of that area were complaining and the Willinks Commission was set up to address their fears. The southern minorities have not been having it easy in this country. The minorities in the North have fared better. Yakubu Gowon is an Angar from Pankshin in Plateau State but he ruled for nine years. Then (Ibrahim) Babangida, a Gwari from Niger State had eight years. In the North Central alone, they already had 17 years. But the southern minorities don't enjoy anything; it is six months here and there. We need to be fair to all groups in this country.
Between1994 and 1995, the late Bola Ige and I wrote a series of articles about this so-called rotational presidency. There is noting like that; Bola Ige called it rotational confusion. In an interview that he had with Newswatch magazine in November 1994, he expressed deep fears for Nigeria.
Ciroma and his people are missing it. The North is not a zone; it is a region and that is what they are asking for. The North is not a zone known to the PDP. It is a region and they are trying to be clever by half. If the PDP decides to zone its presidency to a particular zone, what obligation has other parties to do the same?
Do you think the PDP might run into problem in the 2011 polls?
It is more than the PDP. From the tone of Ciroma's letter, the North is already threatening to break up the country.
Are you talking of the country or the party?
They will break up the country. It (PDP) is the biggest party and if they do it, then it will affect the country. Ige in his 1994 interview said, and I read: 'I fear that some selfish people might lead Nigeria into a break up…My fear is that some selfish people who call themselves leaders are not allowing Nigeria to become great by providing first class leadership and because of what they are doing, I fear they might lead Nigeria into a break up. Because when you have such dichotomy and imbalances and those in power are not giving attention to them, some centrifugal forces might be at work. It can mean break up…'
Ige also said the Ijaws should not be provoked into doing things. He said in response to a question during that interview: 'When I talk about the oil states, people forget that the Ijaws exist from Ondo State to Akwa Ibom. People are not thinking about that. They see them as Ondo, Edo or Akwa Ibom states. They forget that they belong to an ethnic group and oil exploration makes them to be more united. You could have some people telling them why don't you go? I am only trying to show that the factors that can lead to the hardening of positions exist.'
That was Ige as far back as 1994 and I hope that we won't play into the hands of some people who don't wish this country well.
That means the prediction by the U.S. that Nigeria might break up by 2015 might come to pass?
Yes, it might come to pass and I wish that those in power will know what they are doing. If care is not exercised, that prediction is very serious, and the threat at the end of Ciroma's letter was bad.
Some groups sympathetic to the Ciroma position have gone to court seeking to stop Jonathan from contesting the 2011 election…
They are not allowed to go to court. The party is the alpha and the omega in internal squabbles.
Suppose Jonathan does not win the PDP primaries, what happens?
He can go to another party like Abubakar Atiku did in 2007 and he might also choose not to contest. Atiku even amazed me. He went to the AC (Action Congress), then decided to come back to his vomit and was started talking of a waiver. I was ashamed.
You think he should not have been given a waiver?
No, I don't think so. Can he just be wandering within the existing parties like that?
Looking at those aspiring to be President, it appears we are recycling old leaders
I think the military has a general conspiracy against all of us. Obasanjo has had the best of all worlds. He was military head of state between February 13, 1976 and September 30, 1979. He spent three years and seven months, and then another eight years as a civilian President. Later he attempted to have a third term, which was aborted. There is a thing that I found interesting about him. He handed over to civilians in 1979, and in 1999 General Abdulsalami Abubakar handed over to the man that handed over to the civilians. They are going round in circles.
While he was in office, General Babangida banned some politicians he termed old breed from taking part in the electoral process and you were one of them. What do you think now that he is planning to come back and he is close to 70 years?
It is not only a reversal; he made a mistake by saying he wants to come back. He also made a hopeless statement recently that young men of nowadays are not suitable for power. When he was 44 (years), he said we who were trained by the system were not suitable and he banned us. He called us old breed politicians. He is now 70 years and he is making an attempt to come to power.
A generation has passed and he is still planning to come back. When he was banning us he said he wanted new breed and the late Ige said he was looking for new greed. We laughed because we knew he is wrong.
The generation he banned was the people who loved to serve without any personal consideration. I was made a commissioner at the age of 27 in 1972. I was Commissioner for Education twice. I can tell you that till today I don't have a plot of land in Lagos or Abuja. I have no house in any country abroad.
Did the banning of old breed politicians create a problem for Nigeria?
Yes, it created a problem. Those us who are ready and trained to serve honestly were fenced out. We could have stamped on corruption. He didn't allow us to consummate our careers. He brought in all manner of inexperienced people. If he was right then, then he is wrong with what he plans to do now. If he is right now, he was wrong then.
But we are fighting corruption with many agencies in place. Are we fighting this malaise?
No, corruption is fighting us. Even you people in the media always make the cartoon of corruption as a beast with two horns in the head and a spear to destroy the helpless country. The form of government we are running is too expensive. Members of the (National Assembly) collect all manner of money. The payment of these lawmakers on its own causes inflation.
You think we should run a smaller government?
We should run parliamentary system based on the zones. Papa Obafemi Awolowo did very well when we were running the parliamentary system; let us go back to those days. There is too much corruption in the system now.
Is it correct that as a governor you don't need to steal because so many unsolicited gifts would be given to you?
It depends on the background of the man getting to the office. I know people who are rich before they got to office and still stole. I know governors who are poor as church rat and they still stole in office. Those who will steal will steal.
When we were in office, my salary was N20,000 per annum; that is equivalent of $16,000 then. It is N4 million today. I must say that this was before introduction of the Structural Adjustment Programme.
You said you don't have property scattered all over unlike some former office holders…
I joined the government when there was no corruption. I joined the government with people who are determined to serve their fatherland. People in the government serve because they love it and they have a name to protect.
Again, the background matters too. I have to protect the name of my father. My father, who died in 1948, built this house I stay today in 1954. When Shagari came here in 1986 and was surprised asking me when I built the house, I told him my father built it not me. It is a matter of conviction, and corruption can only be tackled from top down.
Why is the civil service today very corrupt?
That is unfair. There is corruption everywhere. The army, the police, the judiciary, corruption is everywhere.
Will parliamentary system prevent corruption in Nigeria?
It will to some extent. We also need to block all avenues of wastage. Nigeria has the highest cost per meter of road construction in the world.
Why?
It is because of theft. There are so many first generation successful men that stole to make it. They split tenders to be able to shortchange the rules. The question of corruption also has to do with religious, economic and social aspect. We need to take care of the community and change our value system. The urge to buy a car by all means won't be there if we work on the public transport system.
Some of your former colleagues who were governors for three months in 1983 were jailed for corruption, but you were commended. How did it happen?
I had been in government five times before I was made governor and I know how people steal and what not to do. I have seen money and I have been exposed to positions of trust. I was once in charge of all the land in Ibadanland and I had a clean record.
Is that because of your home background?
That is part of it, but the most important thing is I hate going to prison. I will die if I'm jailed. I am an arrogant person and I am talkative and I won't keep my mouth shut. I realised that if you want that freedom you won't steal. If you want to steal you must learn to keep your mouth shut. I can't keep my mouth shut.