Humour Is The Best Stress Buster - Yashere, Award-winning Black British Comedian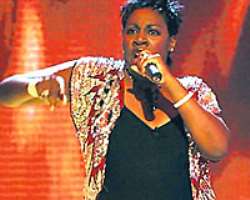 Dubbed "a British rival for Whoopi Goldberg- lively and exceptionally funny" by Scotsman Newspaper, Gina Yashere has taken the comedy world by storm since her debut. She was recently
Gina Yashere
named Best female comedian at the Black Comedy Awards. Lawrence Amaku writes.Growing up under the care of a single mother her mother being an immigrant from Nigeria Gina Obedapo Yashere obviously does not have fond memories of her father whom she said abandoned the family when she was just three.
"My dad left us when I was three. He has tried to contact me since I became well-known, but I'm wary of that. You haven't been there all my life, and all of a sudden, you're interested? I don't think so," she revealed to The Sunday Times of London.
Born on April 6, 1974 in Bethnal Green, London, England, Gina is a British comedian of Nigerian descent.
Childhood Years
"I was a stifled child. My mother was always worried that we would be drowned or run over by a bus and she never let any of usI have two brothers and two sisters go on school excursions. At 17, I begged her to let me go on a trip to France. I told her that it was organised by the school, and she finally relented and delivered me to Victoria Station.
What she didn't know was that I had arranged for 10 of my friends to turn up with their suitcases. They boarded the train with me, then got off at the next stop, while I went on to Paris. I spent a month living on my wits and it was awesome.
My first career was as an engineer. I worked on the building of Canary Wharf. There were 2,000 men on site, no other women and no ladies' loo (toilet). You have to be tough to survive in that environment. I eventually earned their grudging respect. "
Her TV Career
Gina has appeared in many television programmes, starting with her role as team captain on "Blouse and Skirt" (1996), a BBC2 panel show that ran for three years. She was a finalist in the Hackney Empire New Act of the Year competition that year. She is probably best known for appearing in the comedy series The Lenny Henry Show, where she played Tanya and Mrs. Omokorede, the pushy mum, as well as voicing Keisha on Bromwell High.
In 2005, she appeared in the reality television series, Comic Relief does Fame Academy, in aid of Comic Relief, and she co-hosted the 2006 and 2007 MOBO Awards alongside American music stars, Akon and Coolio. She has also made numerous appearances in Mock the Week, and also appeared on the CBBC show, Gina's Laughing Gear.
In 2007, she tried out for Last Comic Standing during the Sydney, Australia auditions and qualified for the semi-finals and was then chosen as one of the ten finalists to compete in the final rounds. On August 1, 2007, she was eliminated in the first round along with Dante.
In 2008, she was the first-ever British person to be on Def Comedy Jam.She has also made recent appearances on various other TV shows like The Tonight Show, in September 3, 2009, as a stand up comedienne; The Jay Leno Show in October 21, 2009 where she showed a video of herself giving free fortune telling readings to passerby on street.
Also on the November 25, 2010 show, she operated a walk-in psychic booth and would later on December 24, 2010 appear on Live at the Apollo.In 2010, she appeared as Flo in the ITV drama Married Single Other.
Personality and Reflections
Gina believes she is naturally funny. In her view, "Comedy can be an acquired skill, but you can tell those with innate talent. We can go off-script.
"Humour is the best stress buster. I used to be a fighter. At school in 1980s North London, being Nigerian wasn't cool, but no bullies ever dared to pick on me because I punched and kicked them if they did. I stopped fighting when I realised it was easier to be funny instead.
"I'm the life and soul of any party, but at home, I can sit in a chair and not speak for the whole evening. I really like my own company. Love matters to me. I'm particularly close to my brother, Edward, and I have a network of people I trust. But I don't need love for reassurance. I know I'm wonderful without having people to tell me so." she said.
She also broods over her flab, recalls her mum's fears, and hints on her love relationships."In the past year, I've lost four tonnes and gone from a size 18 to a size 12. I went to Thailand and did one of those detox programmes where you fast for seven days and have colonic irrigation (the injection of fluids through the anus into the colon to clean it out.) I wouldn't say I'm sexier but I'm definitely cooler being fat didn't suit me. Or maybe I am sexier. I've always thought that my personality was what attracted people to me, not my looks. But I'm definitely better-looking now.
My mum wanted me to marry and have eight kids, but she was so overprotective. I didn't have a single boyfriend as a teenager. I've had one long-term relationship but it has been on and off. I'm too much of a challenge for most people; and too selfish. I want things my way and I don't want people telling me what to do. Compromise isn't in my vocabulary. I value my freedom too much to wantanybody with me. That's why I can't see myself in an enduring relationship, ever."
Living Off Comedy
Gina expresses a strong sentiment against the British media which she believes have often stifled the career of black comediennes by giving them limited airtime, thereby suggesting a racist tendency.
"The media in Britain have got this very tokenistic, sort of nightclub one-out-one-in policy. There are always white comedians coming through but when it comes to black comics, all we've had is Lenny Henry for 30 years. There just aren't the jobs there should be.
We're all fighting for that one TV show, and as soon as someone gets it the rest of us are fucked. Jocelyn Gee has got her own show now, so I know I'm never going to get one because they've filled their black female quota."
For black comedians hoping to eke out a living for themselves in comedy, she counsels that they should rather look in the direction of the United States, while giving reasons for her relocation to the states.
"(Recently) I did a show over there called "Last Comic Standing," which is like 'American Idol' but for professional comedians. They got me a two-year work visa and I thought: hey, I'm off. Every comic wants to make it in America. There are a lot more opportunities in America. England is going to be losing a lot of black talent unless the powers that be stop pigeonholing us."
However, in a recent interview with Time Out London, she opined that British comedians are far better and more natural than their American counterparts.