Night life in Mushin, Lagos community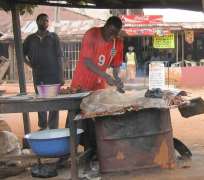 MUSHIN Olosha, Babalola, and Pako- Eleja; these are some of the bus-stops in Mushin as you ply the roads. They were once made popular by Fuji music star, Abass Akande, aka Obesere, in one of his popular hits in the early 90s when he reflected on the peculiarity of the Lagos community.
Mushin is arguably known for its notoriety. Many people see the community from different perspectives, especially as night sets in. This has gone a long way to affect how other people outside Mushin relate with the residents. They would prefer to keep them at arm's length and watch, just to play safe. For many observers of life in Mushin, they would prefer to call it 'moonshine' because it is a community that never sleeps!.
A typical night in Mushin brings to bear the good, the bad and the ugly in the ever-boisterous community. As you approach the vicinity from either the Mainland or Island, you would meet a crowded community, which announces to its first-time visitor, 'welcome to a hustling and bustling community where men are laws unto themselves.' You could be harassed and even beaten, yet nothing would happen as the night rulers of the community take full charge. They would tell you 'go bring your police.'
These social miscreants called Area boys, with their guttural voices, would let, you know that all is well except you try to show that you don't want to reckon with them by refusing to drop something (money) for the boys. At every bus stop, you would see them looking stern and ready for a fight with stubborn transporters who default in paying their 'tolls'. They have no closing time.
Yet, it's in this town that the dreaded boys on Akala Street once held residents by the jugular during their reign of terror.Then,you will no doubt need more than guts to pass the area without being molested by the off-putting miscreants.Today,the boys are still holding sway with their illicit drug business, but their activities as gathered have been adversely affected by the presence of eagle -eyed minions of the law who constantly raid their enclave.
You would meet the Egun fish sellers in the bus and they would get annoyed with you for trying to complain about the pervading odour of her smoked-fish. They would rudely query you in their rather poor Yoruba, 'Se o kin je eja ni (don't you eat fish?). But ignoring them would further elongate their ranting.
Though traffic in Mushin flows compared to other parts of Lagos, the ever-impatient bus drivers are always looking for short-cuts thereby causing momentary snarl. In some instances in the absence of traffic officers, the Area Boys would take over to ease the gridlock.
Night life in Mushin makes shopping easier for residents returning home after a hard day's work; shoppers can buy almost everything they want with little or no difficulty.
It's usually a moment of drama. Right from the Suya spot, Amala joint, to the market women selling pepper and other cooking ingredients, haggling sometimes reaches feverish peak as you hear uncomplimentary remarks uttered when the bargain is not favourable to the seller. 'Thief, come carry am now, because na bridge I come count for Lagos.' The seller would tell the buyer.
Apart from the various relaxation centres you find at Mushin, it is commonplace to find crowds in front of music shops at night arguing about their Fuji music idols. For instance, youths of the town are currently polarised into the camps of two Fuji artistes, Saheed Osupa and Wasiu Alabi Pasuma.
They often engage themselves in argument that had sometimes resulted in physical combat but sometimes, because of the quick intervention of such record dealers or law enforcement agents, mayhem is averted during such confusion.
Kabiru Ajibola, a music shop owner at Olorunsogo area of Mushin, said: "Let me tell you my brother, the Mushin that we have now is far better than the Mushin of many years ago. Mushin used to be a volatile area where hooligans fomented trouble at the slightest provocation. The boys would indulge in liquor and hemp smoking without being apprehended by law enforcement agents. But because the law has really been hard on them in recent times, a good number of these boys have relocated to other places. I normally leave for home at 10pm. I have lived in Mushin for over 15 years; I have seen the good, the bad and the ugly. Life here has been very interesting, right from when I was squatting with my brother till when I decided to be on my own".
Explaining further, Ajibola said: "When the boys used to go on merry-making spree, the place would become so rough, but now things have changed. Then, my shop used to be very close to the road before it was later demolished by authorities. Whenever people gathered to listen to the music of their favourite musicians, the police would just surface from no where and arrest people. This was so because sales and smoking of hemp were very common in this area. But today, all that has been reduced, people now go about without fear of being molested".
Ajibola maintained that though the police raid would always happen late in the night and because this was having negative impact on his business, he had since stopped closing late.
"Though I presently live at Iyana Ipaja, I make sure that when it is 10pm, I close the shop, even though that is when these boys start enjoying themselves with the music. Some of them would move to other places where they can find a music outlet to continue the rendezvous because they don't like being disrupted at all.
Though Mushin has a reputation for odd life style, The Nation noted that the place is equally made up of good people. Some of them still live there and a good number of them have since re-located to other areas when they found fame in their endeavours. Mushin had produced notable politicians like Senator Ganiyu Solomon, Dr. Muiz Banire and Mrs Funmilayo Tejuosho, musicians and business tycoons. Some of them are still living in the town despite their fame and status.
However, night life in Mushin is still pregnant with its usual trouble, hence, constant police patrol to forestall possible breakdown of law and order. Mushin is a place where parties must happen, especially at the weekend even if it is to celebrate the purchase of a bicycle.
However, some of the residents believe that violence in Mushin has since been curtailed by law enforcement agents and that despite the old toga, the community has transformed into a safe environment.
Wale Adaramaja, a civil servant, fumes at those classifying Mushin as a notorious community. Hear him:" I don't know why people are fond of demonising this town by referring to it as notorious. As far as I am concerned, there are more terrible places in Lagos than Mushin.Go to Ajegunle, Amukoko, and others where hoodlums unleash terror on innocent residents and see things for yourself.
"We have a number of multi-national companies, international markets in this town and to be honest with you, Mushin is a commercial town. Therefore, there will always be one or two occasions when friction could occur among dwellers for socio-economic reasons but that is not enough to demonise residents".
Forty-five-year old Innocent Okoro,a spare parts trader at the popular Ladipo Market,Mushin, echoes Adaramaja's view: "Life in Mushin is the best anywhere in Lagos State. The town is strategically located and is easily accessible by visitors. I have been living in this area for about 18 years now and I can tell you that living elsewhere is certainly difficult for me. Those who say the town is notorious only want to give a dog a bad name in order to hang it. At night, I can get whatever I want to without stress.
"Sometimes, if I return home late in the night and there is no food in the house, I can dash across the road to get a steaming plate of rice or garri with good stew. Policemen are virtually everywhere day and night to ensure the safety of lives and property. Therefore, all is well with us here no matter what any negative thing being peddle by misguided people about Mushin."

Selling Gari, Tomatos, Yam, Water, Oil, Onions etc: