Why Obasanjo Joined Jonathan In Jos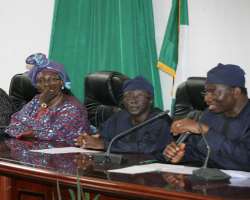 PHOTO R-L: PRESIDENT GOODLUCK EBELE AZIKIWE JONATHAN; PLATEAU STATE GOVERNOR JONAH DAVID JANG AND DEPUTY GOVERNOR PAULINE TALLEN DURING JONATHAN'S TWO-DAY VISIT TO JOS, PLATEAU STATE.

JOS, Oct 10, (THEWILL) - As President Goodluck Jonathan yesterday ended his two day visit to Plateau State, it has become clearer why former president Olusegun Obasanjo joined him in the tin city.
To the surprise of many, former president Obasanjo who was not on the list of expected guests, turned up at the banquet held for President Jonathan in Jos on Friday night.
To show that he has all along been prepared for the visit, the former president adorned the same attire with the president and host, state governor Jonah David Jang.
THEWILL findings showed that Obasanjo came to Jos at the instance of the president who had asked him to join him in order to mediate in the on going crisis among PDP members in the state where many of the political heavy weights in the state have pitched their tents against the governor.
Photo R-L: President Goodluck Jonathan chats with Dan Maraya Jos while former president, General Olusegun Obasanjo looks on.
Obasanjo was expected to use his experience to broker peace more so as he has worked with many of the politicians involved in the fray.
Deputy Governor Pauline Tallen, former Governors Fidelis Tapgun, Solomon Lar and former Deputy Senate President Ibarhim Mantu have all worked with Obasanjo in the past.
Though the meeting did not hold as the banquet finished late into the night, it was gathered that former President Obasanjo met with Mrs. Pauline Tallen to find out why she decided to run against the governor.
Tallen was said to have told him that she had borne so many insults from Jang despite her contributions to his becoming governor.
The former president was said to have offered to reconcile the both politicians but he was told that the fray had gone beyond reconciliation and that the governor is very vindictive.
President Jonathan however met separately with Jang and the latter was said to have cited many projects he has executed in the state as evidence that he has the people of the state at heart.
He was said to have told the president that the gang up against him is because he has refused to share the resources of the state with some of the politicians.
Both the president and the former president are expected to meet on the issue and decide how best to tackle the Plateau issue as Jonathan seems to have a soft spot for Jang while other major politicians in the state have advised him against supporting the state governor for a second term.