Revealed! Why Dokpesi was arrested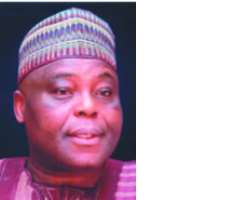 More details has emerged as to why the Director General of the IBB Campaign Organization, Chief Raymond Dokpesi was invited and detained by the state security services, earlier today.   According to a top security source who elected anonymity,
Chief Dokpesi was arrested, following a revealing Short Message Service (SMS) text message sent to the phone of one of the suspects in police custody, asking 'if Dokpesi has paid the balance', and another SMS 'inviting another suspect to a meeting at IBB Campaign office'.
Raymond Dokpesi a source revealed brings to seven the number suspects so far
arrested out of the nine on the wanted list of the police.
According to top security sources, Dokpesi was being detained for
questioning  by the security agencies , following 'a text message found in
the phone of one of the arrested suspects. The text message reads: 'have you collected the balance from Dokpesi?'
The source said, 'this was said to have sent alarm signals across the
nation's security apparatus, since the suspect concerned is considered to be
neck deep in the bombing plot.
'It became more dramatic when another text sent to another suspect in our
custody reads: 'lets meet at IBB campaign office', this led to what is
called security circles as 'a high tech sting operation ' which in a matter
of hours, has netted a wider ring of suspects'.
It was also gathered that a suspect who never knew he was already under
surveillance confided in a friend via a text that   'na we do am…..meet me make I brief u', is currently confessing more details to the security agencies .
According to our source, another suspect allegedly confessed that 'in the last two weeks he bought a brand new Nissan Murano SUV from funds received from Dopkesi'.
The confession, according to the  source, includes a directive from
Mr. Henry Okah that they should destabilize the government since Jonathan
'was not ready to put serious money on the table'. However, just before press time sources within the IBB 2011 Campaign Organisation revealed that Chief Dokpesi has regained his freedom.