IBORI IS THE ISSUE IN DELTA POLITICS – PETER NWAOBOSHI, PDP CHAIRMAN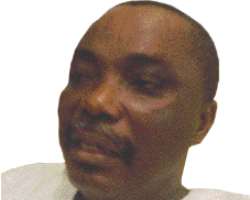 What are the distinct features of Delta State politics?
Delta State, to a large extent, is a miniature Nigeria. We have various tribes and various interest groups. So, whatever happens in Delta State has effect on the rest of the country. If you are managing Delta State, you are like somebody who is managing Nigeria because of its complexities.
How prepared is the PDP for 2011?
We are very prepared for the 2011 elections at various levels, including the governorship. Even if the elections hold tomorrow, we are ready. We know that the PDP will win in Delta State, no doubt about that because there is no other party in the state.
How many factions do you have at the moment?
There is no faction in PDP Delta State. Well, you may have people who may have one or two personal interests but that does not mean that there is a faction within the party in the state. Some people are doing one thing or another to seek relevance or to disrupt the rhythm of things. In an election year, there are bound to be political intrigues and forces.
How do you assess Gov Uduaghan's performance?
Governor Uduaghan has done very well in last three years in office. As PDP chairman, it is first and foremost my responsibility to do an objective assessment of the performance of all our elected officers because you can be called upon at the national headquarters of the party to present the scorecard. Generally, the governor has done very well. For instance, there is peace in Delta State to a large extent. Before he came in as governor, there were a lot of ethnic struggles and conflicts.
He goes to all nooks and crannies of the state making peace and seeking reconciliations. Some of us even criticize him that he goes to the house of his opponents or those who are fighting him. He doesn't care. His own philosophy is that you need to be close to your opponent to be able to persuade him to see where he could work with you for the good of the state.
In terms of infrastructural development, which is one of his three -point agenda, he has also done well.
If you go round Asaba, you will see massive road construction going on everywhere and you ask, do we have this kind of money before in the state? This is just one among many projects. The same thing is happening in Warri, Ughelli and different parts of the state. Very soon, Delta will be the only state in this country with two airports of international standard.
In fact, the things happening here are too numerous to mention. I must not fail to add that a befitting government house is under construction.
Does it mean that former governor James Ibori did not do anything in the state? Or how do you compare Ibori's government with Uduaghan's ?
I served in Ibori's administration as political adviser, commissioner for agriculture and commissioner for special duties. Ibori and Uduaghan operated under different circumstances and both of them are two different individuals. One is James Onanefe Ibori, the other is Emmanuel Uduaghan. They have different perceptions to governance, which is natural because even identical twins have different perceptions to things.
Ibori inherited power from the military, which kept little or nothing on ground. So, Ibori had to lay the foundation for the rapid infrastructural development going on now. The point I am making is that, largely, both of them operated at two different environments. Again, Ibori is a very flamboyant politician, and he doesn't run away from battles. Uduaghan doesn't run away from battles either but he may have a more quiet approach to political issues. In other words, they approach issues differently.
Uduaghan believes in discussions. Many of those attacking Uduaghan could not have taken on Ibori when he was governor of the state. Uduaghan is tolerating everybody, including those abusing him on the pages of newspapers. In most cases, he tries to discuss with such people.
Ibori was regarded as the godfather of Delta politics. How has his absence affected the politics of the state?
I don't understand what you mean by godfather of Delta State politics. He was our governor, ruled the state for eight years and made his own contribution to the infrastructural development of the state.
You may not like him but he made his own mark. Today, some people are still saying that Ibori did this or that. He made himself an issue in the politics of Delta State because, in one way or the other, he operated the government that many people liked and some may not like.
If you are talking about his impact in the state politically, you may be looking at it from your own views. Ibori may not be around but there are many people in the streets that will tell you today that Ibori did one thing or another for them. There are also people in the streets today who will say Ibori is this or that. Those are people's views but the politics of the state goes on.
Some of the people criticizing Ibori today are his products. I know one of the people criticizing Ibori today, and who says that he wants to be governor of the state, but he was picked from nothing. He came to Asaba with only one suit and Ibori gave him four appointments in four years. Today, he is one of the financiers of one of the groups.
You said that PDP is the only party in Delta, does it mean that Delta is a one-party state?
Because of their registration by INEC, other parties can be called legal entities but if you talk of impact, they are nowhere. If anything happens to PDP Delta State it becomes an issue. For example, I don't know what is happening in ANPP, I don't even know where their office is. Ditto other political parties.
AC existed at a time. I don't know whether it is still in existence. Maybe during the election we will see some people coming out of other political parties. That is why it is hot in PDP, that is why people are fighting in PDP, which is unnecessary because they believe that once you have an upper hand or once you win PDP primaries you have achieved what you want to achieve.