Breaking News! Chidinma Wins Project Fame Season 3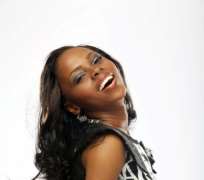 After several weeks of hard work; the training and grooming from the faculty team, harsh criticisms from the judges and the in-house quarrels amongst the housemates, a winner has finally emerged in the third season of Project Fame West Africa. Amid tension, fear, hopes and high expectations Chidinma was tonight pronounced the winner of Project Fame West Africa season 3.
The last six contestants – Kesse, Ochuko, Eyo, Tolu, Yetunde and Chidinma lined up after their performances for the night, waiting for the breaking news. The comperes, Benjamin and Adora delayed the announcement as usual, raising the fright even more. Their eyebrows were blinking per second. They breathed in and out almost every minute – the tension is heightened.
The studio was quiet for few minutes as the validated voting result, enclosed in an envelope was handed over to the hosts. Even the Joke Silva led faculty crew looked tensed. Eventually, Chidinma Ekile who drastically improved in the cause of the show was pronounced the 2010 Project Fame star as she was presented the cheque of N2.5m and keys to a brand new Toyota RAV4. She's also entitled to a recording contract.
It's the first time a lady is winning the contest. And Chidinma's win makes it the third time a Nigerian is coming tops.
Gifted Ghanaian singer Kesse Frimpong was named 1st runner up winning- N1.5m and a Toyota Corolla while Eyo Eminue made the 2nd runner up position and went home with N1m and a Toyota Yaris.
Fan-favourite Yetunde (a.k.a. Omo Ibadan) was named third runner-up.
The other two contestants, Tolu Adeshina and Ochuko Ogbu-Sifo didn't completely lose out of the competition as the top six contestants are expected to release a group song, produced by one of Nigeria's leading producers; a well as a video.
Ultima boss Femi Ayeni tells us the Academy is committed to pushing and supporting all six finalists…
Iyanya was the winner of the debut edition MTN Project Fame (season 1) in 2008. Shortly after his historic win he released a single and eventually an album which ushered him into the hall of fame of Nigerian musicians.
Mike Anyasodo emerged the second winner of season 2 in 2009. With his debut album in the pipeline, he has released several singles including the recent 'Fine Fine Lady' which is receiving massive airplay on TV and Radio stations in the country.
Now it's Chidinma's turn to rock stardom, with her already acquired platform. Hopefully she would be the next big thing happening to the Nigerian music industry in a matter of months….