REMEMBERING JIMI HENDRIX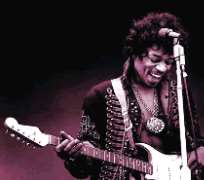 He was everything: a genius, a guitar hero, an innovator, a revolutionary, whose music cuts across different genres, from rock to jazz to funk to blues to whatever.
If he had lived, he would have been 67 by now.  But he died 40 years ago last week at age 27, a victim of his own hedonistic life of drugs, booze and untimely death.What a sad song!
Jimi Hendrix is the reason I picked the guitar in 1977, strumming it, struggling with the chords and progressions, learning to play, learning to sing Hey Joe, the Jimi Hendrix classic hit song about a man branding a gun and going to kill his old lady for messing around with another man.  In the song, he boasts about killing her.  'Yes, I did, I shot her,' he croons.  After killing his wife, he sings about wanting to go down South, where he hopes to find freedom and where nobody will put him on trial.  What a dark song!
Forty years after his death, Jimi Hendrix is still an immortal prisoner whose music, whose revolutionary wah-wah guitar and whose unique soulful voice are still fresh and relevant, proving that he lived far ahead of his time.  Forty years gone and Jimi Hendrix's electric guitar still electrifies us all with his amazing sense of improvisation and timeless innovation.  With his big Afro and a trademark bandanna, Jimi Hendrix was so sensational, literarily setting his Fender Stratocaster guitar on fire and letting it burn on stage in the most bizarre act of musical showmanship.
Every guitarist, from Majek Fashek to King Sunny Ade to Sir Victor Uwaifo owes, a debt of gratitude to Jimi Hendrix because he was the master, the god of guitar, if there is any such thing.
As a diehard Jimi Hendrix fan, I spent the whole of last Saturday in remembering Jimi in London.  From Belsize Park station in Hampstead Heath, I took a tube wondering: where is the Brook Street flat where Jimi Hendrix once lived and discovered that Handel lived there too on a flat above him?  The house is now a museum, the Handel House Museum which is opened to public to see where two musical geniuses from different ages and different musical genres once lived.
As a way of remembering Hendrix, I played his songs all day and all night long.  Songs like Foxy Lady, All Along The Watchtower, Voodoo Child, Purple Haze, Manic Depression and many more Jimi Hendrix classics.
Members of my Saturday Church would be wondering why I am glorifying a rock star who killed himself in his hotel room through drug overuse, a rock star whose music was inspired by cocaine, heroin and LSD.  But I have a message for you.  The message today is: Son, don't do drugs!  Don't get addicted to anything that would enslave you and kill you in the end.  If God has given you a special talent, use it to glorify Him, so that you in turn would be glorified.
In Purple Haze, Jimi Hendrix, in the height of drug-induced hallucination, sings: Excuse me while I kiss the sky.  On a positive note, I take it to mean that the sky is your limit. In whatever you do, whether it is playing music or writing a newspaper column, you should aim high and kiss the sky with it.
From America, where he was virtually unknown, Hendrix crossed the Atlantic and came to London in the 1960s.  There, fame and fortune smiled at him.  He formed a trio and had hits with Hey Joe and Purple Haze.  At the onset, he was an innocent guy drinking just fruit juice, but then he fell into bad company where he was introduced to wild life, occasioned by experimenting with marijuana, booze and hard drugs.  The feeling was that as a musician you needed to get high to be able to write good songs and perform on stage.  Our very own Majek Fashek fell into that trap and you can see what he looks like today: a highly talented musician of the Jimi Hendrix school of music now reduced to a caricature.  What a sad song!  Majek Fashek, in one of his songs, paid homage to Jimi Hendrix by doing a cover version of Hey Joe.
This morning, I am telling you guys: stay off drugs!  Stay off booze.  Stay off cigarette!  Stay off marijuana!  Keep off bad company!  Keep off the fast lane.  Because it would drive you into destruction.  Learn from Dagrin, the young talented musician who should have been alive today, but died on the fast lane, while driving his car at night with eyes hazy.  Each time I hear the music of Dagrin and Jimi Hendrix, I am filled with regret.  I thank God for the beautiful music they left behind.  Yet I ask: Is it better to live fast and die young?
As a father, my prayer is that we would all live to see our children attain greater heights and surpassing our own achievements.  We would not live to witness the agony of our children becoming famous, only to die before our eyes, such as the fathers of Jimi Hendrix and Dagrin experienced, and in the end getting nothing out of their sons' fame and fortune.  That will not be your portion, in Jesus' holy name.
Forty years after, I hope Nigerians would still remember Dagrin just as the world is remembering Jimi Hendrix, the electric gypsy whose version of the American national item at Woodstock still stands out like a Leonardo Da Vinci's painting of Mona Lisa.
A patriot called Rafiu Ladipo
What is patriotism?  And how is patriotism linked to being given a national award?  Each time, I reflect on my friend, Rafiu Ladipo, I wonder why nobody has thought of giving this man a national award for his patriotism and for supporting Nigeria all through the years on the field of football.
If he were to be a Briton, by now, he would have been knighted or given an OBE or MBE for his patriotism.  Everywhere Nigeria goes to play football, you will find Rafiu Ladipo, the Field Marshall of the Nigeria's Football Supporters Club, marshalling his troops with sounds of trumpets and drums, chanting prayerful songs to God to give Nigeria victory.
Only in Nigeria would such a man not be recognised.  I am sure that after reading this piece, President Goodluck Jonathan or whoever is responsible would take note.  People less deserving have bagged all kinds of national honours, just because they are influential or they are politicians or they know what to do to be considered.
As Nigeria clocks 50, some Nigerians should be honoured for their services to the nation.  It doesn't have to be politicians alone.    Ordinary people sometimes deserve extraordinary honours.  Honour should be given to whom it's due.  Rafiu Ladipo is an honourable man.  Only a dishonourable person would think otherwise.