HISTORY AS MERYL WEDS MWISHO LIVE ON TV TODAY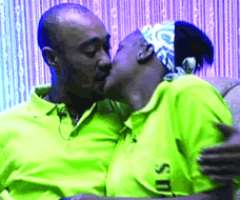 Mwisho with Meryl
Call it love or infatuation, right in our very eyes, history will be made today as television viewers all over the continent will witness for the first time a wedding of two Housemates in the Big Brother Africa House! It's incredible but true!
Barely two months into the show, Namibian Meryl and Tanzanian Mwisho, have decided to take their relationship a notch higher by getting married right in the full glare of the cameras today.
During the week, Mwisho confirmed to Big Brother that he wants to marry Meryl. In the Diary Room, Biggie had asked Mwisho how serious he was about his plans to marry Meryl. 'I'm serious in life and it wouldn't be surprising to me and it wouldn't be a surprise to my family and my friends. I love Meryl. I really want to marry her,' Mwisho said.
He added that under the circumstances, he couldn't be more serious. Big Brother wanted to know who his bestman would be and he undoubtedly said it would be Uti. Though, Uti and Mwisho had not been on speaking terms for three days, Mwisho insisted that Uti would have to do it.
When Biggie asked him if he had discussed this with any of his Housemates, he said yes, adding that none of them had opposed to it. On his way out of the Diary Room, Mwisho asked Big Brother to talk to his brother to deliver the ring.
'I'm sure he has noted it,' Mwisho said. Once out of the Diary Room, Mwisho ululated and did a bit of his traditional dance before rushing for his bride-to-be, kissed her and told her he had already told Biggie the news.
Meryl shouted for Mwisho's brother to send her Tanzanite ring by Wednesday. 'I don't want it too big. I still want to look at my beautiful fingers,' Meryl said.
Biggie plans big bash
On Wednesday morning, Biggie summoned the intended couple into the Diary Room perhaps to confirm if they were really serious about their wedding. But before walking into the room, Mwisho laughed and told Meryl: 'This is the part where I allow the woman to do the talking.'
After settling in the couch, Biggie did not beat about the bush and headed straight into the issue. 'We are gathered here…' Upon hearing these words, Meryl's mouth flew open, thinking the wedding would actually be taking place right there in the Diary Room. Biggie asked the pair if they seriously want to get engaged, to which they both responded, 'yes.' The engagement party was then confirmed to be on Saturday. Meryl and Mwisho gave each other a kiss and then walked out. Uti and Munya did not waste any time in shouting 'wedding votes!' Kaone piped in. 'Don't be confused Africa. They will break up after the show,' he said.
All the while, wedding bells rang over the loudspeakers in every room in the House even as ovation rang out behind the cameras.
Mwisho apprehensive
However, a few hours later, Mwisho told Biggie how apprehensive he was about the wedding. He said the reason for this was because he had never taken such a big step before and clearly needed to get used to the idea and the fact.
'I don't know the thought process behind the engagement. I know the ring part and it is definitely something that I am positive about though,' Mwisho said.
He said further that he did not know what to do or say on the big day. When Biggie dug deeper and asked if Mwisho was sure he really wants to do this, Mwisho said he wants to get engaged. 'It scares me, but I want to do it. Maybe Biggie can surprise us with a ring,' he said.
Meryl on Mwisho
In her Diary session, Meryl had this to say about Mwisho: 'I'm holding his nerves for him. I hope he does not mumble or stumble on Saturday. He is very shy when put on the spot.'
She revealed how the two of them had spoken about getting engaged and married before but they had not thought it would happen this soon. 'You cannot tempt fate,' she said. When Biggie reminded Meryl how she had said Mwisho was just a friend in the early days, Meryl admitted that she had not wanted to admit what was going on between the two.
Then Meryl stated how the two of them plan to meet each other's families once they leave the House. 'Once that is done, we will decide whether we live in Namibia or Tanzania. A lot of people need to be involved in this, including the children,' she said.
But could the wedding be a gimmick to get the sympathy and votes of Africa, as the intended couple, including Kaone and Uti are all up for eviction tomorrow? Time will tell.
Housemates speak:
Munya
I'm not sure. It could be for votes to convince Africa she is a good woman and he is a good man. I was honestly shocked Big Brother. I am not convinced it is genuine.
If it's real, big up to them. But then Big Brother should organise a bachelor's party for Mwisho and the boys, complete with a stripper, cognac and cigars. I don't mind being maid of honour because Meryl is the only woman in the House.
Uti
They are both adults and if they have decided to do it, then all the best of luck to them.
It would be interesting to see if their relationship survives the pressures outside the House. I hope their relationship survives. Mwisho has a lot of insecurities to deal with so I do not think he can handle a woman as independent as Meryl.
Kaone
I am looking forward to the engagement, which would be one of the major highlights of my life in the House.
I think it's a privilege that comes with responsibility. If they feel it's right for them, then let love lead the way. Being the kind of person I am, I would rather consult first, because marriage is something that involves other people besides the couple.