MIMIKO PRESENTS STAFF OF OFFICE TO 3 MONARCHS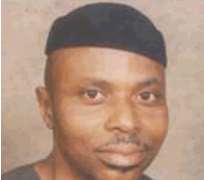 Three traditiional rulers were at the weekend given staffs and instruments of office by the Ondo State Government. The new monarchs are: The Olufira of Ifira, Oba Anthony Olugboja, the Ajamolu of Onishere, Oba Michael Akinwande and the Molokun of Atijere, Oba Samuel Edema.
While presenting staffs of office to the new kings, the state Governor, Dr. Olusegun Mimiko charged them to ensure the traditional institution was given the desired respect and honour.
Represented at the occasion by the Commissioner for Local Government Administration, Mr. Diran Iyantan, Mimiko said, ' as custodians of customs and traditions, monarchs should abstain from acts that could ridicle their exalted positions'.
The Governor assured the people of the state that his administration would not interfere in the selection of monarchs for any community.
He added: 'Our administration will enthrone as many kings as possible, where none currently existed, we are going to upgrade the traditional chieftaincies to full obaship status in any community which meets the necessary precondition required for such action.
'It is our belief that through the instrumentality of traditional administration, government's efforts can best be complemented to achieve peace, security and development.' He noted that one of the means of achieving the objective of his administration was to develop the traditional royal institutions. Meanwhile, the kingmakers in Idoani, in the Ose Local Government Area of the state, have started screening the three candidates presented to them by the Obasunloye Ruling House in the town.
The candidates are; Prince Ademola Atewogboye, Prince Agunloye Falade and Prince Adeniran Adebiyi.
The ruling house comprised of the Adebiyi, Atewogboye, Aladekoba and Falade Royal families.
The meeting where the three candidates were screened, ratified and forwarded to the kingmakers, was presided over by the most senior prince in the town, Prince Nathaniel Atewogboye, a Lagos based legal practitioner.
The kingmakers will pick the most suitable person among them for the throne and submit his name to the government for approval and presentation of staff of office.