South East Roads: Call Your Representatives Today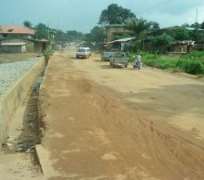 South East roads have become the most neglected roads in the six geo-political [cultural] zones of Nigeria since the end of the 3-year war that saw the South East zone suffer heavy infrastructural damage like no other zone.
After the war, the SE roads situation worsened. The marginalization meted out to the SE zone by the Federal Government by their policies resulted to a failed program to rebuild the damaged SE infrastructure. And the South East House of Representatives have displayed an inability to act to help rectify the problem in the South East constituency.
As a result, the contact numbers to the South East members are published in Table 1 below for the members of the South East to contact them and ask them what they have done to checkmate the continued marginalization and road dilapidation.
Below in Table 2 is a breakdown of the South East roads in the 2010 Appropriation Bill. It shows that the FGN had set aside the sum of N26billion [N26,319,695,840]for South East roads out of the total of N210.8billion [N210,773,218,922] it set aside for the entire 6 geo political zones – an equivalent of 12.5%.
Each member of the South East constituency is asked to please call and/or text each of the members of the House of Representative repeatedly. Ask them the extent of completion for the various roads.
We, "Rural Community Development Outreach" [an NGO] recommend that you send this text "Honorable Greetings. Out of the N26.3billion set aside in 2010 Budget for South East roads, how much have been used to develop our roads in the South East? What have you done and why should we vote for you in 2011?"
Click here to Open Table 2


0808 336 8888

|
Article source