Why I Want to Run Again, Gov Uduaghan ...Dares Aspirants with Brighter Plans to Step Forward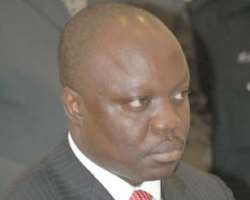 Gov. Uduaghan
After many months of speculation about his real intention or political plans beyond his first tenure, Delta State Governor, Dr Emmanuel Uduaghan, yesterday formally threw his hat in the ring in readiness for another race for the Government House Asaba in 2011.
Uduaghan made the declaration yesterday (Thursday) morning during a chat with newsmen at his Warri residence.
The choice of Warri for the official announcement of his ambition to govern the state beyond 2011, he said, was advised by the fact that the oil-city has become to him "political roots of sort", having made public his first intention for active politics in Warri.
He warned all politicians and their supporters in Delta State and the country against reducing political contests to "do-or-die affair" instead of addressing issues critical to the lives and well-being of the people.
Uduaghan scored his administration high in addressing the real needs of the people in the state, and especially in ensuring that an atmosphere of peace and security prevails today across the state.
Economic and social life has been buoyed up in the state due to the restoration of peace and security, he noted.
While thanking the people of the state and stakeholders for their support since he decided for the governorship race in 2007 and during his about three-years in office, he advanced several reasons while he should be given another chance by Delta State citizens to be Governor again.
He stressed that his government has initiated a litany of development projects, some of which long-term particularly in the area of "Human Capital Development, Infrastructure Development", saying it was reasonable to ask for more time to enable him nurse to fruition many of these projects he initiated.
The governor highlighted his administration's efforts to reposition Delta State for better economic and socio-cultural performance encapsulated in a tripartite development agenda.
"It will only be fair for somebody who initiated these projects to see them to maturity. Four years is not enough to plan and execute such projects. We need more than four years and that is why I am offering myself for a second tenure as governor of Delta State."
Uduaghan explained that the formal declaration to run for a second term had been put on hold until yesterday because he had waited patiently for the release of the 2011 electoral guidelines by his party, the Peoples Democratic Party (PDP).
The PDP authorities finally released the 2011 election guidelines on Wednesday and paved the way for his formal declaration yesterday, Uduaghan disclosed.
The governor noted that he had already braced himself up for the usual reactions, both positive and negative, that his declaration of intention yesterday would precipitate across the political arena particularly among members of the PDP in Delta State.
He however expressed confidence that the people of the state, including those allegedly opposed to him, would again support him enthusiastically towards the realization of his second term bid next year.
He said he welcomed anyone who believed he could take Delta Sate to a higher pedestal with superior development plans than those he has been unfolding since 2007 through the numerous development initiatives contained in the three-point agenda of his government.
He urged his would-be opponents to engage themselves in issue-based campaigns in the spirit of the new political dispensation being championed by President Goodluck Jonathan as well as by himself (Uduaghan) at the state level.
Uduaghan further said, "In doing so, I am not unaware that there will be issues of political blackmail, intolerance from some opponents. The politics we are now is not a do-or-die affair. I believe that if anybody have a different approach, let him come out and let us talk about it and if people are convinced, they will decide who to vote for.
"Accusations which are unsubstantiated but prompted merely by political bitterness should be put firmly behind us; political campaigns at all levels should be based on issues.
"I also appeal to every contestant that it should not be a do-or-die affair. We should not personalize it; but we should make our debate issue-based."
Below are excerpts from Dr Uduaghan's formal declaration for a second term, yesterday in Warri:
"I called you here this morning to make a formal announcement; but before I make that announcement, I want to thank you for the support you gave to me and my family before the last election during the election and after the election. Most importantly, the great support to my administration in the last three years and two motnhs or so. There is no doubt we had a robost relationship. You said things the way they should be and whenever there are differences, we always settle it amicably. Thank you for the support.
"Secondly, many of you will recall we started politics from this environment, when I wanted to go into the race. It was at this kind of meeting that I made the announcement, through the Warri Press.
"The time has come for people to make their intention known and yesterday; my party - PDP - came out with the electoral guidelines for the upcoming election. I don't believe that I should have said anything until the electoral guidelines came out.
"I was part of the meeting that critically examined the electoral guidelines and I think it is very possible for me to take a shot at the governorship of Delta State. I am formally announcing this morning to run for the governorship race as Governor of Delta State.
"In doing so I believe and I do know that over three years now as governor of this state, that I have tried to keep very faithfully to my Three-Point Agenda of peace and security, infrastructure development and human capital development. You will all agree with me that between May 29th, 2007 and today Delta Sate is a more peaceful place. It is more peaceful than as it was before, it is more secure, the waterways are open, people can move around at night especially and businesses close into the night as they used to do before.
"You will all agree with me that in the area of peace and security, Delta State is a better place. In the area of infrastructure we have gone ahead with our social infrastructures, in the health sector, in education and in the area of providing good roads for people to move around for their daily activities.
"The second aspect of the infrastructure development for investment; that is, in the area of power, transportation, sea ports, air ports, major highways and of course urbanization and the information and communications technology (ICT).
"We have also designed the Warri Industrial Park and we are about to design the Koko Export Free Zone for investors to come in.
"In the area of human capital development, we have tried as much as possible to improve the lives of our people from the day of birth to the day of death.
"We have tried to improve on the lives of pregnant women and our unborn children by starting a free healthcare scheme; so that people have better access to health system. We have also tried to improve in the lives of our children, making sure that they have access to education.
"We have removed every encumbrance in terms of financing payment for examination fees and other payments that occur in secondary school education is virtually free in the state. We also were able to provide some books to children. Beyond the secondary school, We have also tried to make sure that bursary and scholarship to intelligent ones and others with First Class to further their education anywhere in the world.
"We also have a special scholarship for the very intelligent ones in their tertiary institutions and after schooling, we have also tried that our people are better empowered.
"Our micro-credit programme is on course , we have improved in the funding this year and also our children and youth who are interested in agriculture are trained and we are assuring that we open farm for them either in clusters or as single farmers across the state.
"We have also gone to make employment in all tiers of governments: in the health sector, education and even in the civil service we have offered employment for various Deltans. Fourteen thousand (14, 000) have been employed in the last three years.
"We have also tried to improve on the welfare of our workers. When I came on the 29th May, 2007, there was 50% wage increase and our state government has been paying faithfully and we have also 7.5% pension scheme, which the state government has been doing faithfully to our workers.
"We have also tried to invite investors to the state. So, there are a lot of investment enquiries today. In the next three to four years, we will be having a fertilizer plant in the state. The opportunity is for people to get employed in the private sector and the opportunity is still improving everyday.
"For over three to four years now there has been no drilling activities in the oil companies in the state; but as at today efforts have been made for drilling to go on because conditions in the waterways had improved.
"You will also recall that an Escravos Gas-To-Liquid plant has been constructed and almost completed for commissioning next year. The $5.9 billion project was constructed without hitches and that shows how secured the state can be to investment.
"Having said that, a lot have to be done in Delta State. We have also done more of planning in the past three years in the administration of our projects. It will take several years of our initiated project to mature.
"It will only be fair for somebody who initiated these projects to see them to maturity. Four years is not enough to plan and execute such projects. We need more than four years and that is why I am offering myself for a second tenure as governor of Delta State."