BOLT AIMS FOR LEGENDARY STATUS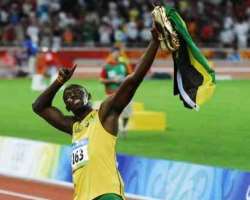 Usain Bolt, the world's fastest human, says he wants to secure legend status by retaining all of his world and Olympic sprint titles.
The Jamaican superstar, who is currently visiting Australia, holds the world and Olympic 100m and 200m titles and owns the existing 100m world record of 9.58 seconds.
Bolt isn't going to next month's Commonwealth Games, because it clashes with his training program for next year.
While the Caribbean speedster does want to compete at a Commonwealth Games in the future, his two major priorities are the 2011 World Championships and 2012 Olympics.
'My aim is for the (2011) World Championships, if I want to be a legend in sport I have to defend my titles, so that's what I'm going to do,' Bolt told reporters in Sydney.