MOYES BACKS YAKUBU TO SCORE GOALS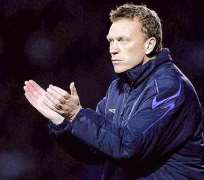 Everton manager, David Moyes has clarified Yakubu Aiyegbeni's situation at the club, saying that the Nigerian striker is not yet ready to complete 90 minutes but that he still has an important role to play for the Blues.
Yakubu's introduction as a second half substitute on Saturday helped swing the match back in Everton's favour, with his strong hold-up play and vision back in evidence as he set up Leon Osman for a gilt-edged opportunity.
The 27 year-old scored 21 goals in his debut season at Goodison Park but ruptured his Achilles tendon the following campaign, an injury which until recently put an end to players' careers and from which Yakubu has yet to fully recover.
But Moyes told the club's official website, 'The Yak is fit but he certainly couldn't complete a game at this moment.
'He is in need of more training and more game practice. But what Yak has is a goal in him.
'We still need Yak to make a contribution to the team and team play.
'The Yak's mindset is fine now. He's never been a problem boy and has always been a good lad.'