ATIKU, 14 OTHERS GET WAIVERS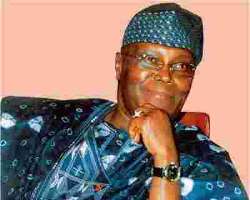 Former Vice-President Atiku Abubakar was among several people granted waivers by members of the National Executive Committee of the Peoples Democratic Party in Abuja on Wednesday.
With this waiver, the former vice-president is free to contest the party's presidential primaries.
Apart from Abubakar, others that were granted waivers include Imo State Deputy Governor Ada Okwuonu, Mr. Charles Elechi; and Prince N. Okoro.
Also on the list are Senator Alphonsus Igbeke, Chief Olusola Akanmode, Senator Mohammed Ohiare, Senator Salihu Otaru Ohize and seven others.
The meeting also suspended the planned midterm conference and special convention of the party, saying that the election timetable was too tight to allow for that.