RED ALERT: ELECTION WILL END IN CHAOS – BALARABE MUSA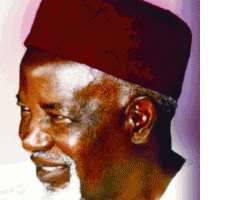 From ISMAIL OMIPIDAN, Kaduna
Former Kaduna State governor, Alhaji Balarabe Musa, is not a member of the Northern Elders Forum or part of any known group in the north insisting that power must return to the north in 2011. He is also not part of the Jerry Gana-led group or any of the pro-Jonathan group in the north.
However, he is of the view that President Goodluck Jonathan is too young to be desperate for power.
In this interview in Kaduna, the first civilian governor of old Kaduna State and current leader of the Peoples Redemption Party (PRP) asked: 'Why is he in a hurry? The consequence is that if he insists on contesting in 2011, under the present circumstances, he will destroy his chance of winning and even contesting in 2015'. As usual, he bares his mind on a wide range of issues.
Excerpts…
You are known to have radical views about issues, what is your candid advice to Nigerians and President Jonathan on this zoning debacle?
My advice is first to Nigerians and then to the President. To Nigerians, it has now been proved that the controversy on zoning or rotation or power shift is unnecessary and dishonest, because these things are what happen in our life in Nigeria.  Zoning or rotation or shifting on political matters is what we have been doing. The only new thing is that the Peoples Democratic Party (PDP) as a party, has made it a policy but they did not originate it.  It was originated by the clamour of Nigerians to ensure that there is justice in the sharing of power between the North and the South; it went even further to provide a legal base for it by providing for federal character in the constitution of Nigeria.
So, the situation now is such that even you, as a private individual in your private life, if you have for an instance an industry in an area, you will like to employ people from various parts of the country, particularly if you are establishing such an industry in areas like Lagos, Abuja, Kano, Jos, Enugu, Port Harcourt etc.  This is part and parcel of our sense of sharing, fairness, so why the controversy? It is simply because political parties want to manipulate the situation, for an agenda which can be very dangerous for the country, because everybody can now see now that if we continue the controversy beyond the present position, we will be undermining the stability of Nigeria.
The present position is that the PDP, just like in 1999, has formalized zoning; it said so clearly that it stands by zoning and secondly, it says it respects the position of the constitution which provides for the right of every Nigerian to contest any election.  They respect this, but they are a political party, the same constitution allows them to nominate candidate for election so the construction has provided two things: the right of everybody to contest for any post and the right of a political party to decide which candidate to represent them.  So, the PDP or any political party can balance this and when they come to their zoning, they would be in a position to decide in the interest of the party, and if they prevail, that is fine; if of course, the fundamental rights of the individual prevailed, they will also accept it.
Why do you think so?
Because the party in control of government in Nigeria is very strong, it has incumbency advantages, can you imagine the PDP wanting Atiku to be the presidential candidate and then he will not get it, because the constitution gives someone else the right to contest?  I give you another example. You know that in 2003, in spite of the provision of the PDP constitution, and in spite of the decision of the PDP to zone the presidency to the South, some PDP leaders including the late Rimi went to the primaries and he was allowed because he has the constitutional right to do so, but what happened?  But what am now saying is that let us stop this controversy, because we know that a political party has the right to nominate a candidate for elections, unless he is an independent candidate which is another matter and they will do so subject to the qualifications laid down by the constitution and the electoral act.  We know this; so the matter now is in the court of the electorate and that is the best thing.  The PDP may zone the presidency to the South in 2011, another political party may nominate candidates from the North and then it would be left to the electorate to decide which one is the best; so, let us have no more controversy over zoning or power shift.  Let us exercise our rights to elect the best, let's now be talking about which party we will vote for and which candidate. Let us avoid this unnecessary division.
If you were in Jonathan's shoes, will you contest the 2011 Presidential election, if yes, why, and if no, why?
No, I will not contest; I believe he is making a very dangerous mistake, which some people may even regard as subversive, because of his leadership position as the President of the country and the Chief Security Officer of the country.  He knows very well that he has only nine months or so left, because he must hand over on May 29, 2011, by any means. He must hand over otherwise, we will have another crisis.  He knows the negative thinking of the nation; he knows the expectation on him, to make the difference and Nigerians expect no less from him; that is why Nigerians made the sacrifice of supporting him to be the acting President, when the PDP and the late President and his people were unwilling at the time.
Nigerians also campaigned for him to be the President, even when the President was still active because there was no hope of the President coming back.  So, he should know that he has a lot of goodwill and Nigerians will be let down if he gets himself confused.
Issue number two, is election and legitimate government, in order words only an election which is transparent can guarantee this. Now, how can 2011 election be transparent when he is a candidate for that election particularly under the circumstances of zoning?  Will he not be seen to be serving his own interest, that is number two.
Three, he is a young man; why is he in a haste? According to the zoning arrangement of the PDP, the North will finish its term by 2015 and the next zone will be South-South or South-East; virtually every Nigerian accepts this, now why can't he use this 10 months, not for the purpose of contesting elections in 2011, but proving his capability during this difficult time, so that when it comes to the turn of the South-South, where he comes from, he will stand a good chance more than anybody. He can do that because that was what Obasanjo did. Obasanjo performed very well when he was military Head of State and in spite of the fact that we have been against military men participating in our democratic experiment, Obasanjo was presented, and sponsored to win a free and fair election in 1999. Why can he (Jonathan) do the same thing? Why is he in a hurry? The consequence is that if he insists on contesting in 2011, under the present circumstances, he will destroy
his chance of winning in 2011 and destroy his chance of even contesting in 2015, it will have to be someone else from the South-South or South-East, why is he in a hurry? I don't think he is up to 50 years now, is he not undermining the expectations of the young ones, making people to think that the young ones are too opportunistic to be relied on? He is not like me that is getting to 75, I may wish to join the fray because, I don't have much time left.  But he has a lot of time left for him, so I don't see any reason why he should insist on running in 2011.
The South-South believed that having been with the North for long, 2011 is payback time, but Yakassai said there is nothing like that; what is the situation like, having been around since the First Republic?
I think Yakassai is right in his attitude on zoning, but you know sometimes he can miss the point. But it is not a question of the South-South owing the North; I think the South-South and the North owe each other to continue this relationship in the interest of the continuity of Nigeria.
The first of such relationships is with the South -East when there was power tussle between Tafawa Balewa and Azikiwe. In the end, the South -East gave up in the history of Nigeria to allow Tafawa Balewa become the President of Nigeria.  Now during the Second Republic, the South-South and the South- West led the campaign for a northerner to be the President of Nigeria. Because the South West, due to their combatant position in the politics of Nigeria, because of their influence in the media, told the ruling party in Nigeria that it was more realistic to let the north have the Presidency in 1979, because the north was more capable of restraining the military from taking over after they have handed over power in 1979, because there was the possibility then.
So the South- West did the North a payback.  The South-West took that position secretly, it did not go to the public, but we and others who could understand, knew when they took that position. The South-East in spite of their grievances agreed, the South-South which in any case was in a kind of gentleman agreement with the North, also agreed and Shagari who was not expected to be anything more than a local government chairman and he said so himself became the President of the country, by the good will of the South-West. The North did the same thing to the South -West, and that made Obasanjo President in 1999. Obasanjo who was even disliked in the South -West, against the wish of the South- West, the same North convinced the South-East, convinced the South-South that in the interest of their 'class', let Obasanjo be.
Now the only time when this did not happen was when the Northern leaders as represented by Babangida annulled the June 12 election.  However, in 1999, that was even taken into account in favouring the South-West and making an unpopular candidate who turned out then to be the President of Nigeria.
Now in the case of the South-South, the relationships have been there since in the 1950s, and the most dramatic was during and after the Aburi conference when the Mid-West under Osadebe prevented the disintegration of Nigeria.  This happened, because, the North did not care about the continuation of Nigeria.  They wanted to leave the Nigeria federation.  The South-West did not want it, they wanted the Oduduwa Republic, the South -East has already established a Biafra regime, so it was the Mid-West which convinced the North, that 'look let us stay as one Nigeria, even if the East and the West go, let we the South-South and the North remain as one Nigeria.  You have a problem, you have no access to the sea, we have a problem, the South- East and West will be fighting on our ground because of our oil; we have a dilemma if we and you come together and remain as Nigeria, these people, let one go to Biafra and the other Oduduwa.  We have your protection and you have direct access to the sea.'  It was not written but this is what was decided. Now why should a person like Jonathan upset this arrangement which has worked for the whole Nigeria; every section of Nigeria has done favour to the other politically. When you go economically, it is the same thing.  Why should anybody because of his own ambition upset this? We are now hearing things, threats that we did not expect to hear from people, except from immature people.
I told you a few minutes ago what somebody from the West told me that as much as N10 billion has been earmarked for people in the six geo-political zones for the purpose of convincing them to uphold the Jonathan presidency in 2011.  Some people have gone to the extent of alleging that some people have been promised oil at $25 per barrel, if they can support the project, it might be rumour but with this level of corruption, stealing and waste in Nigeria, it is not impossible because everything about oil is now under the President; he can do anything, there is little or no control from the National Assembly, and the Nigerian people because they are not combatant.
Are you surprised that there are some northerners working for the actualization of the Jonathan presidency?
Of course, it is a question of money; one of the politicians in Nigeria once said, 'everyone has a price,' you have problem with him only if the price is not high. So if the rumour and the allegations are true that N10 billion has been earmarked to convince people in each of the six zones, and then oil lifting is been made possible at the cost of only $25 per barrel, and the world market price now is about $78 per barrel, you can see how many Nigerians will not go for that.
Will you go for it if you are approached?
The fact is that I cannot even be approached, because what can I do with that sort of money; of course, it can help a lot to build the PRP, but then PRP would have been built on an immoral ground and it would fail and I don't want the PRP to fail.  For my person, what will I do with that money, I am not like people who came to their position after they left university. I have been struggling since I was 11 years old. I started work as a third class clerk in the treasury. Now if all these time money cannot make me a liability to the nation, why should it now, when am 74, am not like somebody who started like an official after he left the university, without any social experience and they are many people like that.
Talking about transparency, we heard that there was a time the Obasanjo administration gave you a job, can you confirm or deny that?
Let me tell you what happened. First, my relationship with Obasanjo is such that he was the only President of Nigeria that I tried to relate to openly and practically because I campaigned for him to be the President of Nigeria in 1999, even though I was in the PRP and he was in the PDP.  Because we all believed that taking the situation in Nigeria into consideration then, Obasanjo was the least risk that we could take in 1999. So, I campaigned for him openly through the media and at one stage the PDP was so happy with my analysis of the suitability of Obasanjo against the other candidates that they bought pages in 11 newspapers and publicized my position.
And my position then was in agreement with the decision the PRP took long time ago. In 1983, when the NPN did its worst with elections, we sat down in my house here, in my bedroom and decided that we will transform ourselves if necessary from a political party to a national movement for the purpose of ensuring social reconstruction of Nigeria; in order words, we will  continue to exist, whether we are registered or not, whether we can contest or not, we will continue as a movement seeking for change, using our fundamental human rights which is contained in the 1979 constitution.
So, when 1999 came, we were not registered as a political party, so we could not contest, but we believed that Nigeria needed a capable President because we will continue to be a political party, so there was no question of we opting out.  We can have a different strategy, but we decided that of all the candidates contesting, Obasanjo was the least risk Nigerians could take, we did not approach PDP, it has nothing to do with PDP, but we took this decision that we should support Obasanjo's aspiration, because he was the least risk and we did.
In my own case, in the polling station, in front of my house, I acted as an unofficial agent to Obasanjo, using my social status to scare people from rigging him at that polling station. So, we also had the policy that we are not participating in any government that we have not helped to bring about.  But in the case of Obasanjo's government, we helped to bring it about.  By our participation as a party and by also my actions, so we were quite willing to participate in Obasanjo's government, but Obasanjo was afraid to bring us on board because he was warned by our opponents in the north in particular that he should not have anything to do with the PRP, because according to them, PRP in any form was dangerous.  So I related with Obasanjo, and there was never a time, we were offered any appointment and there was never a time I ask him for an appointment but I visited Obasanjo regularly and I had no problem seeing Obasanjo.  All I needed to do was just to speak to his PA and the young man, who apparently is a supporter of the PRP, he did not tell me but from the way he was doing, I know that will make it possible.  Immediately, I speak to him, within an hour, Obasanjo will give me an appointment and I never stayed more than 15 minutes waiting to see Obasanjo in Aso Rock.  So, during one of these visits, we were talking about farming, because both of us are large scale farmers, and he asked me and I told him that farming has now become a national service; you do it because you feel that you have to contribute to the welfare of the country and you have the capacity.  So that is why I want to remain in farming but it is not commercially viable, so we talked about the problems and he asked me what I do for a living and I told him I am a chartered accountant,  I am not in practice because politics makes it difficult for me, but I have a firm of accounting, that I associate with and get commission out of it.  As a
result of that discussion, he asked for the firm and I told him. And when I got back, I told them at the firm that this is what I did, if you get this business as a result of my influence, I will not just want to take commission, I will have to be an active participant.  He gave us the job, and as far as I am concerned, they performed very well, satisfactorily and mind you I did not go beyond certain limits because I am just a commission agent and partner; so, there was a limit to what I could do.  But from what I got, they performed very well and there was no complain.
But after 2003 you were no longer supporting Obasanjo, What happened?
Exactly, two things happened. You know we supported Obasanjo as a party, because he constituted the least risk putting everything into account, his capabilities, his history and so many things, among all those who were contesting with him at that time. I think we had Ekwueme, Rimi, and we did not consider any of them the least risk because of other deciding factors of money politics.
But before Obasanjo's 100 days in office, we saw clearly the possibility of him betraying the nation and if I can remember on the occasion of his 100 days, I made a statement to the effect that he was going to betray and in fact I was about to be arrested, because my comment was published by a magazine printed overseas and brought here in Nigeria for sale, but some people advised him against arresting me, because they have not started arresting people at that time. So, they felt that if they arrest me, people will say now this man is beginning to do what Abacha did.  So they did not arrest me, instead, I was invited to go and see Obasanjo and I could not refuse, because I wanted to brief him, so I was obliged to respect him.
Can you tell us the things that you saw then and what transpired between the two of you during the meeting?
I think I did during our first meeting; we spent about 45 minutes discussing. I advised him against privatization, against allowing the allegation bordering on marginalization because he was expected to stop the allegation against marginalization. I also advised him against the continuation of organized violence. And after discussing with him, we both agreed that we should submit a memo to him on the issue and I think we submitted through the PRP, a 21-page memo.  I think two things made us to abandon him.  First, his failure to make the difference which Nigerians expected because I told him.  He won under the circumstances, free, fair and transparent election just as Abiola won, in 1993; so a lot was expected of him, but he did not change, eventually we found out that arising from the probable allegations, he became the worst corrupt leader we had ever had.  Of course, I could not have told him this, but I said so in several of my interviews.  Then suddenly came the murder of Bola Ige, that affected very many of us all over the country, who were supporting Obasanjo, who continue to support him in spite of the problems we were already seeing, because at individual level, some of us were not happy over Ige's death because of the sacrifice Bola Ige made to join the Obasanjo government and look at the manner he was murdered, and Obasanjo could really not care about it and that could happen to any one of us who went there and made sacrifices, so we virtually abandoned him, and this is not just we or me, but so many other people.
In 2003, in spite of everything, you supported Obasanjo and not Buhari, what really happened?
Let me tell you, in 2002, we established the CNPP as an umbrella organization for all political parties, for the purpose of rescuing political parties from the machinations of government and its agencies particularly, the electoral body. So, when we formed that, I immediately became the chairman of that organization.  For 2003, we in the CNPP were opposed to supporting a military man to be the President of Nigeria in 2003.
Why, when Obasanjo, is a former military man?
Because, Nigerians at that time generally felt that military rule was too dictatorial, it undermines the will of the people, in any case there were anti-military sentiments, so we were opposed to military in political power.  So, we were opposed to Obasanjo and Buhari and every military man. We even went to the extent of campaigning for a third alternative that is a civilian candidate as opposed to a military presidential candidate at our meeting.
But at that meeting, there were 27 party chairmen and we were to support one civilian for the presidency, we had to go for voting and the only civilian who had a majority vote got four votes. They were so many Presidential candidates so the one with the highest vote got four, the others did not get any, some just one and we find it ridiculous for us in the CNPP after our votes to come out and say our candidate had four votes; it was ridiculous so what we did was to go to the public and say we could not decide on a presidential candidate and that every political party was free to decide its own candidate.
And for 2007 it was not different, though there was no voting this time, the same CNPP did not recommend any candidate and at that time, we had already abandoned the opposition against military in government, because the civilians were less credible so we said let us find a candidate who constitute the least risk and that is why we decided not with CNPP as a group, but another group made up of seven political parties from CNPP in 2006.  And that group supported Buhari, as the presidential candidate in 2007, because he constituted the least risk.
So what will happen in 2011?
For the 2011 election, we are also doing the same thing.  We are now 21 political parties and we are looking at the possibility of supporting one candidate for the 2011 elections and also anticipating same in all the elections.  But up till now, we have not decided the candidate and the party.  We may come out with something similar with what happened during the APP/AD scenario where one party had the presidential candidate and the other provided both the platform and the running mate. We may end up with that.  On the other hand with the level of articulation now, we may just support one party and the candidate at the same time.
As we approach 2011, what is your advice to the electorate?
We will get it right, but only after a revolution. I give you an example, on the May 29, 2011, Jonathan must leave the presidency because that is what the constitution says. But with the development now, we are not likely to have a credible electoral process, leading to free, fair and credible election and a legitimate government by May 29, 2011; in fact, we may not even have an elected President on May 29.  Which means one of three things would happen.  The least painful is to have an interim government or administration to take over from Jonathan; the other alternative is that the military may move in, the third is that there may be anarchy which will lead to a social revolution in Nigeria to solve some of the problems. The interim government is a problem because it cannot happen without a revolution, because under a civilian regime, you can only have it with the National Assembly enacting law on that.  And I can't see these National Assembly members legitimately do that because it would be against them.