My Home Suffers A Lot 'Cos Of My Career -Desmond Elliot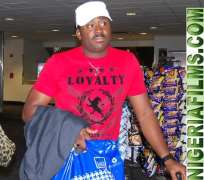 Desmond Elliot is considered as one of the best actors in Nollywood. In this chat with TOPE OLUKOLE recently, the actor spoke about some issues in the entertainment industry.
Desmond Elliot
How has the journey been for you in the movie industry?
I would say pretty well. God has been there for me to give me a sense of direction.
What challenges have you faced?
The first is trying to make a name for myself in the career I have chosen, and it's something I have to thank God for because he has made me someone out of nothing. This is where one comes out saying it is not by might but by the grace of God, because it's not about being the best among the lot, so the journey has been good but very tough.
So, how long have you been into acting as a career?
It's just nine years but to many people, it's like I have been there longer than that.
What are the sacrifices you have made to get to where you are today?
Well, it has to be my marriage because I am not always at home all the time. For that, I thank my wife for being a homely person who manages the home front very well; meeting up with family engagements, sometimes family members don't understand that you can't make it to their meetings all the time but these days, things are changing because they are becoming more understanding. Again, time sacrifice is one of the major things I put into my career. Time has taken so much away from me and because one has to be at so many places within a short period, so much has to be achieved with what goes into the career.
Would you say that as an actor, you have reached the zenith of your career?
No, but I really don't believe that such a target is something one has to put his sight on. Like last year, I did not do many movies, I acted just in very few movies and for someone who does quite a lot like 20 movies and coming back to do just six movies because the scripts I got were not challenging, I just decided to make do with the ones that made sense to me.
I'm into production now and also directing part time and I'm trying to see how I can branch into other fields in the motion picture industry. I have been fortunate to direct three films now and produce three films.
You have just talked about going into another line like directing, producing and its likes. So, would you say it's okay for an actor to venture into such in Nollywood?
Of course, it's still the same entertainment industry, we have many directors abroad, actors who direct movies. Denzel Washington directs, Spike Lee also directs, Clint Eastwood directs and acts. The list is endless.
So, you think it is a right concept for Nollywood.
For Nollywood, I think it's having something different from the norm, try and do something different, if it succeeds, good, if it flops, then we try again but hopefully, it won't. So, for me, it's trying something new. I always cite music as an example.
Why are Nollywood directors not using you in epic movies?
Personally, I don't like epic movies, the so-called epic movies are not epic in any sense but I must add here that it is the kind of movies that the fans enjoy. A lot of them prefer them to seeing these love movies that I feature in. I don't feel myself in the characters because people complain that I don't have an epic face, but for me, I don't feel those epic challenges, the fees for these kind of movies are far too low for me.
You can't pay me in epic the same fee you pay me in drama. Epic is more tedious, more work, so if you want to pay me the same thing, it's not going to work, so unless you want to have a good epic movie and pay me well for it, then no problem.
Are you saying that Desmond is in Nollywood strictly for the cash?
No, I am telling you that when it comes to the work I put in and not doing my kind of movies, then I may consider money to be an inspiration, but when it comes to doing drama or thriller which is what I always do, then I opt for it.
What do you think should be done to improve the standards in Nollywood?
We need bail-out as is obtainable now in America where Ford, GM Motors and others are getting bail-out from the government. We also need bail-out; the government needs to inject money into this industry, we need to step up the level of quality and quantity, content has to be of paramount importance.
I'm tired of participating in movies that look stale and boring. I keep telling people that we are not in the era of trying to convince people to watch our movies, there is a market already. The only thing now is to improve on the quality so that it will encourage people to buy movies, so that those on the higher cadre can enjoy our work and not look at them as one predictable thing. My hope for the industry is that we will get there.
So who should be at the forefront of this bailout, is it the private sector, corporate organisations or the government?
The government should lead the march with the private sector to provide an enabling environment for Nollywood to grow, if they are interested like they ought to be, we will let them in on what I think they should do.
What actually does Nollywood need, is it money, film village, or good policies meant to redirect the industry?
Honestly, if the government enters Alaba International Market today and drives all the pirates, I'm telling you, it will make a whole lot of difference. If they want to know how these policies will work, I will tell them, but first, they should work on these pirates whose activities hamper the growth of Nollywood.