Service Chiefs' Sack 'Timing Is Perfect' – Defence Minister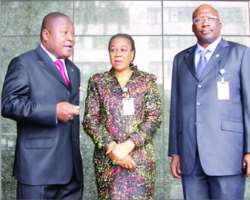 PHOTO R-L: FORMER CHIEF OF ARMY STAFF, LIEUTENANT GENERAL ABDULRAHMAN DAMBAZZAU; NIGERIA'S PERMANENT REP AT THE UN, PROFESSOR JOY OGWU AND DEFENCE MINISTER, MR ADETOKUNBO KAYODE, AT THE NIGERIA HOUSE, NEW YORK.

San Francisco, Sept 09, (THEWILL) – As mixed reactions continue to greet Wednesday's surprise sack of service chiefs by Nigeria's President Goodluck Ebele Jonathan, Minister of Defence, Mr. Adetokunbo Kayode has hailed the decision saying, "The timing is perfect."
The Defence Minister who was in New York, United States on a working visit to the United Nations (UN) alongside some senior army chiefs, including the sacked Chief of Army Staff, Lieutenant General Abdulrahman Dambazzau; Lt. General Chikadibia Isaac Obiakor; Major General Emeka Onwaemegbu and Major General Charles Airhiavbere, told government run news agency, News Agency of Nigeria (NAN), that "The timing is perfect. We have elections coming up next year and we have other issues coming up and the country is fairly stable and safe."
NAN said Dambazzau was at a function in New York when calls hit his mobile phone from family members in Nigeria informing him of his removal as the Chief of Army Staff.
Mr. Kayode said the service chiefs knew their tenure had expired in August and that they serve purely at the discretion of the president. He explained the procedure of service saying: "They know that this is a normal, regular, statutory and constitutional exercise of power by Mr. President. Under the rules and terms of condition of service, they are entitled to two years and their tenure has expired.
Mr. President, exercising his prerogatives under the Armed Forces Act and under the Constitution of the Federal Republic of Nigeria, has every right to make new appointments," the Defence Minister explained.
He assured that the change of guards would not impact negatively on the nation's security.
"The Armed Forces continue to be committed to the internal security in Nigeria and, on the issue of Boko Haram, we have been on top of it and have been monitoring it over time.
"We are already prepared, but we know that it is inevitable that this will happen because there is religion in it and we have to be very careful the way we tackle it," he assured.