FEDERER RELISHING DJOKOVIC CLASH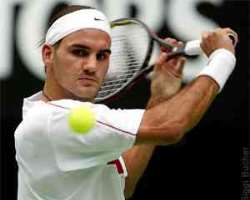 Roger Federer
Roger Federer on Thursday admitted the hard work has started for him as he faces Novak Djokovic in the semifinal of the US Open.
Robin Soderling, who beat him at the French Open earlier this year, was brushed aside 6-4, 6-4, 7-5 as the Swiss set-up another clash with Djokovic.
While across the other side of the draw lurks Rafael Nadal, who has never looked more confident on his least favoured surface, as he seeks to win the only Slam title missing from his resume.
'Novak is obviously looking for that big breakthrough here in the Open, so it's going to be a tough one,' said Federer, who has not dropped a set in his first five matches.
'We just played each other in Toronto and I got lucky to get through that one. He's been playing great here after a hiccup in the first round, he's a great player.'
It's the fourth consecutive year that the 16-time major title winner will play Djokovic in New York – having won all three previous contests – in the 2007 final and in the semi-finals of 2008 and 2009.
But Djokovic is not short of self-belief ahead, having won 14 sets in succession following his stumbling opening performance against Viktor Troicki.
France's Gael Monfils was the latest to be beaten, swatted aside 7-6, 6-1, 6-2.
'I like playing under the radar sometimes. It releases the pressure on myself and I am just focusing on my matches, doing the job, and winning the matches,' said Djokovic, who admitted he struggled with the windy conditions.
'I've got two days' rest so I will try to use them as best as I can to recover physically and get ready mentally for the next challenge.'