TV OUTFITS SCRAMBLE FOR PETER, KLITSCHKO BOUT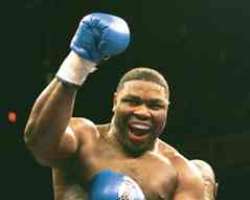 Samuel Peter
The much anticipated hype expected in a heavyweight fight is gradually getting back as media outfits scramble to get broadcast rights for the Samuel Peter versus Wladimir Klitschko title fight on Saturday.
The heavyweight class had once lost its glamour in boxing since the end of the Mike Tyson era, leaving the stage for the welterweight gladiators to keep boxing alive.
Broadcast stations have long concluded that boxing fans love bouts involving risk takers and entertaining fighters, which had been lacking in the category for some time. The coming of Peter and the Klitschko brothers has drawn attention to the heavyweights again.
Klitschko's manager, Bernd Boente, said on Wednesday that since Peter replaced Povetkin as the mandatory challenger against Klitschko, demands for broadcast rights increased dramatically.
The rights for this fight were purchased by television networks in more than 110 countries.
All Peter's title fights attracted more interest from the audience, including those who are Russian and Ukrainian. In the U.S., the right to broadcast the Saturday match went to channel ESPN, which has an audience of 93 million viewers, which is three times greater than that of HBO.
In Nigeria, the broadcast rights were secured by former athlete Mary Onyali, while cable station SuperSport has also promised to televise the match live.
Both boxers have vowed to end the encounter on knockouts.