EXCLUSIVE: ONYEKA ONWENU – THE AGELESS SONGBIRD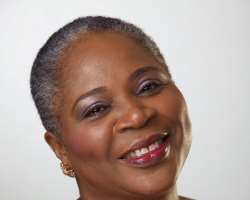 She is not a stranger in the entertainment industry. She's been in all spheres of the sector: broadcasting, acting and music which is of course her core area. In this interview Amb Emmanuel Gabari of Nollywoodgists.com did with Lady Onyeka Onwenu (often referred to as the elegant stallion), she gives an insight into what keeps the Onyeka Brand vibrant and relevant. Excerpts:
MA, YOU HAVE BEEN IN THE MUSIC INDUSTRY FOR CLOSE TO FOUR DECADES NOW. HOW WOULD YOU DESCRIBE YOUR EXPERIENCE SO FAR IN THE INDUSTRY?
The Industry has come a long way. It has witnessed its share of ups and downs in Nigeria's unstable economy. My experience in it has been both challenging and rewarding.
Until about five years ago, the Nigerian Music Industry was in a coma. Many of the big International Record Companies such as Polygram Music, CBS/Sony Music, EMI had left the country due to a downward trend in the economy and the unchecked activities of Pirates. Musicians who remained in the Industry did so out of passion and love for music and the Nigerian Nation. Many of us had to find other sources of income so that we could continue to finance our musical careers.
However, there has been a turn around and our patience and faith has paid off. Again, Nigerian Music is thriving and our Artists are winning Awards all over the world.
A coalition of professionals and stakeholders has fought for the registration of one copyright collecting society called the Copyright Society of Nigeria Limited (COSON). For the first time, there is a truly Nigerian CMO that can, with integrity and responsibility ensure that Nigerian Artists get proper remuneration for their work.
I believe the Music Industry is about to experience a positive explosion which would have a great impact on the Nigerian economy and image.
YOUR EVER GREEN HIT SONG "ONE LOVE" IS STILL A MASTERPIECE. WHAT BROUGHT ABOUT THE COMPOSITION OF THE LYRICS?
One Love was written by my Producer, at the time, Jean Paul Munnik (Bluey). After listening to the songs on my Demo tape and after working on them in the studio, he decided to write a song for me. He provided the skeleton for the song and I infused my style into it.
COMING FROM WAY BACK AND STILL SO STRONGLY RELEVANT IN THIS ERA, WHAT HAS BEEN THE MAGIC FOR YOUR FRESHNESS?
My freshness is God's grace, really. He is my Father, Creator, Inspirator and Strength. God caused me, from the very beginning to realize that I cannot do it on my own and that I should leave myself amenable to continuous education. You can never know it all. You can always learn something new, even from people younger than you.
I leave my mind open to constructive criticism and to learning from anybody who has something positive to offer. The day I am unable to do so, I will know that it is time to pack it up.
AT WHAT POINT IN TIME DID YOU REALISE YOU HAVE A MUSIC CALLING BECAUSE YOU FIRST STARTED OUT AS A BROADCASTER AND THEN MUSIC SWEPT YOU OFF YOUR FEET.
I always knew from my childhood that I had a musical calling. Even as a three year old, I could sing and dance and my mother, being very musical, spotted the talent in me and nurtured it. I was always the performer at family gathering where I would sing songs my mother had written.
However, in my family, education was paramount. My father Honourable D.K. Onwenu was an Educationist. He served as the first Black Principal of Baptist High School, Port Harcourt in the early 50s as well as the Principal of Enitonia High School in Port Harcourt, at the time of his death in 1956. At the same time, he was representing the people of Port Harcourt Federal Constituency at the Federal House of Assembly. He died two weeks before he was to be sworn in as the Minister for Education – of a motor car accident on the Aba-Port Harcourt road.
I only started a professional music career after obtaining a Masters Degree in Media Studies, at The New School for Social Research in New York. I had earlier obtained a B.A. in International Relations and Communications from Wellesley College, Massachusetts USA.
ARE YOU STILL PASSIONATE ABOUT BROADCASTING AND DO YOU STILL FIND TIME TO PRACTICE?
I am still very passionate about Broadcasting. I hope to go back to it by owning a proper studio and presenting an interview programme. This is something that I do well and something I enjoy, very much.
YOU ANCHORED A TV SHOW DURING THE CHOGM PROGRAM THAT NIGERIA HOSTED, WAS IT A WELCOME BACK FOR YOU?
Most definitely. I thank Chief Raymond Dopkesi of AIT for giving me that opportunity. I thoroughly enjoyed it.
"IN THE MORNING LIGHT". "DANCING IN THE SUN" WERE SOME OF YOUR SONGS THAT HAD CLEAN QUALITY VIDEOS EVEN WAY BACK . YOU HAVE BEEN KNOWN FOR PROFESSIONALISM, QUALITY AND HIGH FASHION SENSE. WHAT HAS BEEN YOUR DRIVING FORCE?
Whatever is worth doing is worth doing well. For me, there are no half measures.
ONYEKA AS A BRAND, HOW HAVE YOU BEEN ABLE TO SUSTAIN IT THUS FAR?
I sustain the Onyeka brand by being true to myself and not cutting corners. There are ideals I live by and I stick to them. I don't compromise on good work, integrity and focus on my God. Take it or leave it.
LET'S COME TO YOUR PRESENT PROJECT. THREE MUSIC ALBUMS ALL ROLLED OUT AT ONCE; ONYEKA ONWENU THE LEGEND, INSPIRATION FOR CHANGE AND NIGERIA AT 50TH. WERE YOU CELEBRATING SOMETHING?
I had no idea it was going to come out like that. I had been away from the studio for 11years because of the challenges of the Industry. I was reluctant to spend huge amounts recording a CD, only for the pirates to make all the money.
However, once I saw light at the end of the tunnel and realizing that all our efforts at sanitizing the industry were beginning to pay off, I decided to record The Legend. I however decided to donate the proceeds to the Building fund of The Fountain of Life Church, in Ilupeju Lagos.
Then, I got the commission to write the theme song for Nigeria@50, which I did. It was a beautiful piece – am sure you agree. Yet the Inspiration for Change presented itself and I decided to do that as well. It was as if God was letting me know that since He was the source, He was indeed an unending source. I thank Him.
THESE PROJECTS MUST BE VERY CAPITAL INTENSIVE, ESPECIALLY COMING FROM THE BACK DROP OF BEING YOUR MAJOR MUSIC PROJECT OR ALBUM AFTER A WHOLE LONG TIME (ABOUT 11 YRS NOW). HOW DID YOU COPE WITH THE RIGOURS OF RECORDING?
God provided the money for the recording of The Legend in a very mysterious way. There was a huge expense I was supposed to have made in dollars for my children, I had made part of it and it was hard. I can tell you that the second payment was miraculously made. Till today, I cannot explain it. But this miracle allowed me to invest in the recording of The Legend, which I gave back to God.
Of course you know that you cannot out give God, so He has continued to provide for me and has allowed me to meet up with the huge responsibilities I carry in my immediate and extended family as well as in the society.
The Nigeria@50 song was paid for by the Sub-Committee for Publicity and Public Awareness. Then again, they only paid for the production costs, for the project. They did not pay for the writing of the song or my time and effort in coordinating the recording. The copyrights for the song belongs to the Nigerian people – so it could be used freely. It is my gift to Nigeria@50.
The Inspiration for Change recording is strictly my idea but we presented it to the President, Dr Goodluck Ebele Azikiwe Jonathan, as an encouragement. I have also given him ownership of the copyrights – so that he can freely use the songs for his campaign efforts. I have done this out of my belief that God has placed him in the position he is in now, for a purpose. May that purpose be fulfilled in Jesus name – Amen.
IN "THE LEGEND" ALBUMN, YOU SHOWED VERSATILITY SINGING RAGGE, HIGHLIFE, MAKOSA AND OTHER GENRES OF MUSIC. IS THAT AN INDICATION THAT YOU HAVE COME A LONG WAY?
Indeed I have come a long way and the fact that I am a learner in the University of Life means that I am able to pick up positive music vibes, all around me – and make them into the "Onyeka" sound. It is a good thing.
WHAT INFORMED THE SONG "NIGERIA AT 50"? IT WAS SO TIMELY AND ENCOURAGING TO HAVE A SINGER OF YOUR CALIBRE TALK TO NIGERIANS ABOUT KEEPING FAITH AND BELIEVING GOD FOR A CHANGE IN OUR COUNTRY.
The song for Nigeria@50 is titled "Celebrate, Jubilate, Consolidate" and I prayed to God to give me a song that would be authentic and not hypocritical. This is because a lot of people do not believe that there is anything to celebrate about Nigeria and they have a point. But God reminded me that indeed we should celebrate the fact that we are still a unified country even after so many close calls and self-inflicted wounds. He also said that Nigerians should thank Him for the numerous blessings He has bestowed on our country. We have human and natural resources in abundance and we hardly experience the magnitude of natural disasters like earthquake, flood, landslide, storms and hurricanes as well as famine that are prevalent in other parts of the world.
So the song became one of gratitude to God
"For His Love
For His Works
For the Things
He has Done
Nigeria says Thank you"
In the Inspiration for Change CD, one of the songs, titled Change says:
"Let the change begin
With you and with me
Look in the mirror
Tell me what you see
If we must make
The change that we seek
You must show the way
Make that change
Make it today"
Change in Nigeria is a personal responsibility and we all have a personal sphere of influence. We all have a contribution to make – towards change.
BACK TO MOVIES. YOU TOOK EVERYONE BY SURPRISE WHEN YOU DID THE LEAD ROLE IN THE MOVIE "CONSPIRACY". HOW DID YOU PULL THROUGH THE STUNTS OF INTERSWITCHING FROM DIFFERENT CHARACTERS OF BEING A WIDOW, A MENTALLY INBALANCED MOTHER AND A WOMAN WHO WAS FALSELY ACCUSED? THE MOVIE WAS SO EMOTIONAL.
Conspiracy, I believe was one of my most challenging roles and one that Nigerians are still attached to. I simply asked God to help me with that role and He did. I took it on at a time in Nollywood when Actors were afraid that if they played a character too well, people will interpret it to mean that they were playing themselves. Not many Actors wanted to play Prostitutes or Mad people and so it became a challenge. And I love challenges. I am glad and grateful to God that I was able to do justice to the role.
YOUR NEW ALBUM IS AWESOME! HOW LONG DID IT TAKE YOU TO PUT THE SONGS TOGETHER AND ALSO PERIOD OF RECORDINGS?
Thank you. I had a few songs ready before going to the studios, some of them like Nso Nso, Nigeria Song, City on a Hill and Maryam's Peace were remakes but majority were written right there in the studio in a matter of minutes. I had to believe God that he would send the songs once I obeyed Him and went into the studio. It was His project anyway so I knew that He had no choice but to help me. He came through for me. We would pray and worship Him everyday in the studio and I would ask the Producer to back me up on the keyboard. I would open my mouth and sing the songs the Holy Spirit had put in my heart. That is how the songs came.
AS WE TURN 50 AS A NATION, WHAT IS YOUR SINCERE ADVISE TO OUR LEADERS AND ALSO PEOPLE OF OUR GREAT NATION?
My advice to our leaders is that they should be God fearing and know that they are serving God and His people, that they are leaders by God's grace to serve and not to steal.
To the people of Nigeria, I say, please keep this country in your prayers and know that there is a lot that you can do to bring about a positive change in Nigeria.
YOUR SINCERE ADVISE TO UP COMING FEMALE MUSICIANS.
To upcoming female musicians, I say, hang in there and be authentic. Believe in your God and yourself. Your talent is for a purpose, use it well.
MA, IT'S BEEN WONDERFUL TALKING WITH YOU.
Thank you and God bless.
Amb. Emmanuel Gabari EXCLUSIVE
For www.nollywoodgists.com