M.I., Banky W and eLDee The Don Packed on One 'Sigma Emperor' Cover.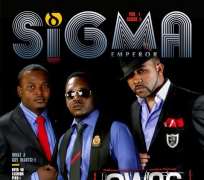 Sigma Emperor Magazine, Youth and Nigerian campus oriented magazine recently released into the streets of Lagos and other states, the second issue of her magazine.
The second issue feature music sensations eLDee the don, M.I. And Banky W all on the cover themed ''THE SWAG ACADEMY''.
In the magazine, the artistes are portrayed as professors, schooling readers on what it takes to be who they are and what they do. They are all featured in three different departments but of the same faculty which is the benchmark of institution of Nigerian music.
elDee has mastered the mechanics of rap and how it is engineered to produce critically and commercially acclaimed rap albums. Speaking on notorious hub for pirates – Alaba, eLDee said "In a way, I feel responsible because I actually initiated and converted the pirates into distribution" and he also spoke about his wife while the 'Strong Thing' crooner, Banky W portray as a professor verse in the art of singing with style tells us how beautiful love is but still be painful, he announced 'Meatie' beef roll as his favourite road-side snack. M.I spoke strongly against the black culture disregard for her woman with terms like "b*****".
Going on with the interview, "I thought Kanye West was gonna come out and interrupt my speech", M.I. joked when asked as regards his victory at the 2009 MTV Video Music Awards.
The magazine also took a dive into revealing the top ten richest Nigerian pop artistes with insightful articles titled 'The Confessions of your girlfriend', "What a Guy wants", celebrity rides and International collaborations – hoax and true etc.
"Sigma Emperor Magazine is a bundle of content and design to sweep readers of their feet, Our intention was solely to give readers all they can possibly get from a magazine – our cover story comes with combined personalities, more than one celebrity gracing the cover for you all to read and enjoy." The Publisher/C.E.O, Emmanuel Nkansah Jnr said.
"A situation delayed the second issue but we are moving in full gear to make sure the third issue hits the streets soon", He added.
Sigma Emperor Magazine had her debut in 2008 with the Mo' Hits all stars led by D'banj on the cover.