JIM IYKE SET TO BATTLE CRITICS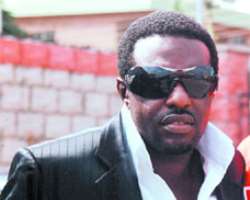 Jim Iyke
Jim Iyke's managers are set to do legal battle with those they called 'faceless and lying' attackers of the actor.
Recently an online journal wrote that the actor was involved in a romance with a married Sierra Leonean based in Germany who had a baby for him. The journal claims that Jim has been visiting Germany and the woman too has been sneaking into Nigeria to spend time with him.
Iyke's managers issued a statement claiming that 'Jim has not been to Germany in five years and neither did he meet a lady going by that name while in Germany. This can be confirmed by the German Consular Office. We found this report to be cheap, and malicious .
It is cheap blackmail as some faceless individuals have been calling and asking Jim for money as they claim to have damaging reports on him. They know they can't publish such in conventional newspapers, so they chose to do so online. But we shall not sit and fold our hands. We have hired attorneys in Ghana (where the news started) and in Nigeria to pursue legal action against these cheap blackmailers'.
The company also debunked the claim that Jim has been banned from entering the United States as it said 'he just renewed his visa about 8 days ago. He got couple of years more so we don't know where the report of the ban is coming from.
How can America renew visa for someone who has been banned? People behind this report are doing so to undermine his efforts as they know he is about to release his movies titled 2 Dollaz and Shades of White. This will not stop our clients and we shall not stop seeking legal redress against malicious publications and cheap blackmailers'.