I PREACH WITH MY SONG – BEN CHIADIKA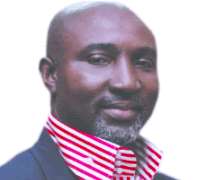 Ben Chiadika
With a bible in one hand and a script in the other, Pastor Ben Chiadika is making the most of two worlds. Currently the Presiding pastor of Glory Christian Centre, a thriving ministry located in Surulere, Lagos, Ben Chiadika finds time to fulfill his pastoral calling and he still follows his passion in the dramatic arts.
'I have written more than 60 scripts for stage, television, movies and Radio plays, so I am not new when it comes to dramatic arts in the country. It is just that I don't like making noise,' he announces. This is no mere boast.
His odyssey into the dramatic arts dates back to the 80s when he penned scripts for popular TV Soap Operas for the NTA like Back from Hell, Moving Fingers, Drop of Oil amongst others. He is also a director of repute having directed more recent sitcoms like Soul Sistas, Rough Edges, Glass House, Hotshot (shot in Ghana Hot Shot shot in Ghana) and MNET's Edge of Paradise, CYBERIA amongst others.
During the Nigerian film and television awards, TERRACOTTA awards held recently, Ben Chiadika walked away with the award for Best Director in a situational comedy award for his role in directing Soul Sistas.
While expressing his delight at winning the award, he hoped that the recognition would serve as an encouragement to others. 'It makes me happy. I am excited about this recognition. The more I think about it, the more I realize that it is not my award after all. It is for those who have stood by me and it is also for the Christian community as a body. I pray that it would encourage others, especially Christians the world over so that they come to the realization that they can serve God and still be the best at what they do,' he said.
Speaking about his involvement in the dramatic arts he describes it as a passion. 'I was born for this. It is my passion. Way back in my secondary school days, when I was still acting, I became convinced that this was wanted I wanted to do with my life. So when I became a devoted Christian, I just continued along the line naturally,' he says.
So how is he able to combine his calling as a pastor with his passion for the arts?
'I can't separate God from what I do. It is a normal thing for me to combine the both of them. I want to encourage other Christians and let them know that that they can live the life of Christ in full and do their regular work as an entertainer,' he states.
Interestingly Ben Chiadika doesn't just limit his creative side to the set. He also brings it into the church. 'Sometimes when I preach I enact some of the scenes from the bible into a playlets. People ask me why I do this and I tell them that if Jesus did it so why shouldn't I do it? There is hardly any sermon that Jesus preached without him using a story to create pictures in the minds of people. So, I use the dramatic arts to create a picture in the minds of people. If the message is passed across then I am happy,' he stresses.
However, maintaining his stance as a devoted Christian and a key player in the dramatic arts scene has its challenges as he explains: Of course, there are challenges but the key thing is that you must stay focus in Christ and realize that God has the best in store for us all. I have been blessed to be in this industry and I don't think because I am a devoted Christian then I should settle for less,' he says.
'In-deed, the bible said that we have the mind of Christ and if that is true, then we must always be at our best so having challenges as a Christian is quite normal. But we ought to be able to ride the challenges because of the presence of God in our lives,' he said.