Nigerian Airlines Gain Right To Direct U.S. Flights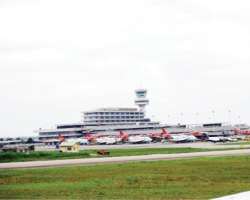 Nigerian airlines have gained the right to fly their own planes to the United States after an improvement in the West African nation's aviation safety standards, Nigerian and U.S. officials said.
Airline security in Africa's most populous country had come under heightened scrutiny last December following a failed Christmas Day bombing attempt on a U.S. airliner blamed on a Nigerian passenger with explosives concealed in his underwear.
But Nigeria is now one of just six African nations to have gained the "Category 1" status from the U.S. Federal Aviation Administration, allowing domestic carriers to apply to operate direct flights to the United States with their own aircraft.
Currently, Nigerian carriers must "wet lease" aircraft and crew from another airline with Category 1 status for U.S.-bound flights, which is prohibitively expensive. Arik Air is the only Nigerian carrier certified and able to afford U.S. services.
"This achievement is an important milestone for Nigeria and U.S.-Nigeria bilateral relations," U.S. Ambassador Robin Sanders said at a news conference, adding the move was the culmination of years of work between the two nations.
A Nigerian, Umar Farouk Abdulmutallab, has been charged with trying to blow up Northwest Airlines flight 253 as it approached Detroit from Amsterdam with almost 300 people on board. He transferred to that flight from a KLM flight from Lagos.
Nigeria recently passed an International Civil Aviation Organization audit after acquiring full-body scanners, explosive-detecting equipment and creating separate bays at international airports for screening of U.S.-bound passengers.
Nigerian Aviation Minister Fidelia Njeze said the work had only just begun with the new rating.
"Some countries that attained Category 1 status have lost it when they allowed their standards to drop ... The next 12-18 months are very critical to stabilize the system under the watchful eye of the world aviation community," she said.
Cape Verde, Egypt, Ethiopia, Morocco and South Africa are the other African nations with a Category 1 rating, meaning they are deemed to have the necessary regulations in place to oversee carriers in accordance with minimum international standards.