FACE OF SELARA RETURNS IN GRAND STYLE WITH HEAVY DOSE OF ENTERTAINMENT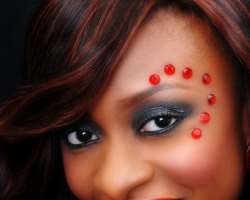 Abuja was treated to a heavy dose of entertainment, style and beauty at the last two edition of Face of Selara, that saw to the crowning of Miss Blessing Osim (2009) and Miss Meg Kaka (2008) as queens and had top artistes like P square, 9ice, 2 Face, Banky W, Paul Play, Djinee and Omawunmi dish out entertainment vibes in high measure. It is going to be a night of entertainment like never before as Face of Selara is back in 2010 set to lift the bar of its last two editions.
Face of Selara is a beauty pageant aimed at finding an intelligent, confident, creative and well spoken young lady to represent Selara Faces Beauty and Style Company; as well as a charity event to raise funds for orphanages.
Life will surely never remain the same for the winners as fantastic prizes are to be won. The overall winner, Face of Selara 2010, will be going home with a car, N250,000 cash prize, a bill board contract in Lagos and Abuja and 1 year contract with Selara Faces. For the first runner up, it's a 5days trip to Dubai , accommodation and ticket fully paid for, N200,000 cash prize and six months contract with Selara Faces. The second runner up will be going home with N100,000 cash prize, a weekend stay in Gambia fully paid for and 4 month contract with Selara Faces.
Face of Selara also offers a huge career opportunity and an avenue for fun as contestants will undergo a two weeks rehearsal before the event proper which will be recorded and Logos of sponsors and partners will be displayed on costumes throughout this period.
The event proper is scheduled to hold on 19th November at the This Day dome in Abuja with an estimation of about two thousand guests.
This event promises to be the biggest event this year with exclusive guest lists including the diplomatic community, wives of governors, ministers, senators and esteemed members of the society. Entertainment at the event will be more than usual as the list of entertainers expected is huge.
Already the Face of Selara website www.selarafaces.com is recording huge amount of visits on a daily basis.
Arafa Ukonga , MD of Selara faces while speaking on the pageant said "it is undisputable that the last two editions has been a huge success but this edition will be grander in terms of sponsorship, venue, artists and all ramifications in general".