Tiger Wood agrees to $900m divorce with Elin Nordegren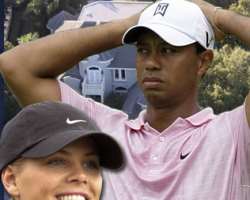 TIGER WOODS is banned from letting girlfriends near his kids in a divorce deal netting his ex a record of almost $A900 million.
The love-cheat golfer has agreed to keep single women away from daughter Sam, three, and son Charlie, one, The Sun reports.
He can bring a new flame into their lives only if he has married her.
In return, former wife Elin Nordegren,30, gets $A884 million, the biggest payout ever seen in a celebrity divorce.
As part of the settelment, Nordegren is forbidden from speaking publicly about his flings with socialite Rachel Uchitel, reality star Jaimee Grubbs, porn queen Joslyn James and up to 17 others.
Swedish ex model Elin ended up with double the sum she originally sought, after her lawyers proved Tiger, 34, was worth much more than the $US1 billion ($A1.2 billion) she thought.
A friend explained: "Elin's legal team have done a great job digging up all sorts of assets.
"The price of the huge sum is her silence: no interviews, tell-all books, or TV appearances about this for the rest of her life - even if Tiger dies first - or she'll lose the lot."
Elin gets sole physical custody of their kids but they will split legal custody.
That means Tiger will share decisions about their future - so Elin will not be able to permanently relocate them to her native Sweden.
Tiger - believed to be building a golf resort in Dubai and investing in the Bahamas - will be able to see the kids for up to half of each week.
He can renegotiate the custody agreement in five years.
Elin also keeps the couple's main home in Windermere, Florida (pictured) and a nearby property - jointly worth $A5.3million - plus an apartment in Stockholm and her island farmhouse nearby.
The previous most costly celebrity divorce was $176 million, paid by basketball star Michael Jordan to his wife Juanita in 2007.