Zulu Films, City of David back with reloaded Heavensgate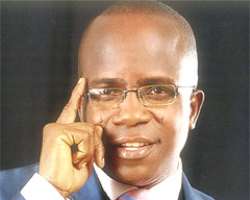 Meticulous film and soap maker Zik Zulu Okafor is back on air with the reloaded and repackaged new episodes of his soar away TV programme, Heavensgate. Mr. Okafor is working on the big budget soap, which has inspired many and changed lives, in collaboration with the City of David parish of the Redeemed Christian Church of God, Victoria Island, Lagos.
According to elated Okafor, who was a former national president of the Association of Movie Producers (AMP), Heavensgate has been on air since 2005, and remained consistently so, except for two quarters that it had been off air recently.
"This has given us opportunity to review the past and to shoot the forthcoming episodes with professional High Definition (HD) cameras with amazing pictures. The quality of production, this time, is simply incredible," he remarked.
Continuing, he said that in the new episodes, the story sizzles with tense moments, conflicts, suspense and shocking reversals.
In the sneak preview, Great One goes on retreat for a final onslaught against Kelechi and Dan Phillips.
"Who will be the loser? Who will emerge victorious? Will it be a case of light against darkness or darkness against the dark?" He asked.
The above and many more suspense-filled scenes are the thrilling moments awe struck viewers will be itching to watch on a weekly basis in these refreshingly new and heart-wrenching episodes of Heavensgate. Last year, the inspirational soap-opera won the Best Picture, Best Sound, Best Soap Opera awards at The Audio-Visual Awards, TAVA.
"Heavensgate depicts players in the arena of God and other brands of men who will dare even God to attain their vain goals. Heavensgate is hope inspiring, evocative and indeed, provocative," Okafor added.
Also speaking at the gathering, held at The Incubator, an NGO of the City of David with Christian trustees, focused on providing a platform for raising Godly leaders and social services in Nigeria, Pastor Iluyomade Idowu argued that Heavensgate goes far beyond mere religion. "It is life," he said.
Continuing, he added thus: "We see the church as change agents to take the lead to sensitize, galvanize and challenge our nation's spiritual, business and political leaders' to be the new champions of the new Nigeria… Heavensgate is a soap opera designed to impact Christians and good moral values as well as provide good quality family entertainment to our audience.
It is a tool of evangelism to impact the society… With this soap, we can build an entirely new generation of Nigerians who'll live in fear of God, guided by truth and true love for their wives…" explained the teacher and preacher of the word. Meanwhile, the reloaded soap will now be viewed on eight terrestrial and two cable stations. Among the leading thespians that dazzled in these new episodes are: Fred Amata, Monalisa Chinda, Segun Arinze, Alex Usifo-Omiagbo and a host of others.