Mokoomba - "makisi" Single Out Today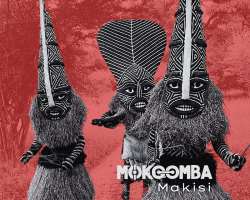 Five years after the release of 'Luyando', Zimbabwe's most celebrated musical export are about to return with their long-awaited follow-up album 'Tusona: Tracings in the Sand', their most danceable album to date, out 7 July on Outhere records.
Like anywhere in the world Africa's musical output has become more and more producer based. Mokoomba, however, are the living proof that Africa's great guitar band heritage is well alive and ready to set any dancefloor on fire.
On 'Tusana', a DIY production recorded in Zimbabwe, the six musicians from Victoria Falls are refining their unique sound: infectious Afro grooves deeply connected to Zimbabwe's cultural DNA, with heavy influences from neighbouring Congo, Zamrock and Chimurenga.
In 2008 the Makisi dances and masquerade were added to the UNESCO list of intangible heritage. The traditional "Makisi" is an important part of the Luvale initiation ceremony in Zimbabwe and other areas of Southern Africa.
During the annual Mukanda initiation ceremony the Makisi, which are masked characters representing the spirit of deceased ancestors, return to the living world to teach the young children to become responsible adults among the Luvale people of Southern Africa. In the last decade the interest - especially among the young people – has faded and the Makisi dances have nearly died out.
In an aim to revive this tradition, Mokoomba's new single "Makisi" (out now) calls for people to come and join for the Makisi ceremony. Everyone including the chief and his deputies, some government officials and of course, the village beauties join the week of celebration. There is ululation and there is dancing performed by young masked male dancers, "Makishi", or "Makisi" in Ngangela language, and by girls who have undergone the "Wali" initiation ceremony.
The video to the song features a rare performance by a Makisi dance group. The dancers come from Victoria Falls and neighbouring Livingstone and are led by a close relative of Mokoomba's lead singer Mathias Muzaza who himself has gone through the "Wali" initiation ceremony. It is the first time that a Zimbabwean band has featured this unique and sacred tradition.
The title of Mokoomba's album 'Tusona' is also a nod towards their immense respect for tradition. It refers to an ancient system of signs and symbols, drawn in the sand and used for instruction during initiation ceremonies by the Luvale in Southern Africa.