Omotola is my God-given partner –Matthew Ekeinde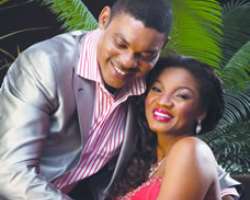 In a world where marriages are fracturing at the speed of light, and pushing divorce rates high everyday, celebrity couples have to walk a tight rope to make their marital relationships work. Daily, they have to deal with rumours, gossip and all manner of bad, false and unsubstantiated reports in soft-sell media.
Many men whose wives are Nollywood celebrities, to a large extent, have grown thick skins against the barrage of bad press as well as gossips and rumours that swirl around their wives. Equally, some of these men, who themselves are key operators, either as producers or directors and married to Nollywood wives have long gone past caring about the jaundiced portrayals of their jewels. Rather, they make every effort to make their marriages work.
Nollywood screen goddess, Omotola Jolade-Ekeinde is one person who has had a lot of negative things said about her. But then millions of her Nigerian and African fans have much more beautiful things to say about the lady known as Omosexy. Though she is a mother of three, her beauty still wows, so much that when she stands in the midst of her colleagues nobody dares compare with her beauty.
Together, Mr. Matthew Ekeinde, a pilot, and his lovely wife, Omotola, have built a very intimate marital relationship for the past 14 years that leaves no space for the devil to drive them apart, despite all the gossip and rumours being peddled about them. What has been their staying power? How has Matthew been able to cope? In this interview, he gives answers to these questions and more. Excerpts…
How are you coping with being Omotola's husband?
First of all, I think it is God, because a few people have asked me that question and I have searched over the years and I've come to know that if Omotola was not my God-given partner, I can guarantee you that we wouldn't still be together today. That is the problem with a lot of couples, especially in our own where I am a pilot and she is an entertainer.
If you look at marriages that are not God-approved, you'll see that they don't last a year talk less of 14 years. So, if I'm opportune to preach to singles, I will tell them to wait for their God-given partner because if they don't wait, they'll always fall apart. Omotola is my God-given partner and that is why we can tolerate each other and be patient with one another.
So, how did you two meet?
I met her in church. My immediate elder sister introduced us because I was ready to get married. Then my sister said there was this cute girl in my church, although, she was a bit young. Tola, was just 16 years and I was 26. Still playing the matchmaker, my sister invited me to their Wednesday service. I got there from work around 7:30pm when the service was up and I met her there.
Somehow I was not really interested because of her age. But I liked her all the same, and so we remained just friends. When she turned 18, I must confess that I saw her from another perspective and that was when I told her I was going to marry her. At first, she thought I was joking; so I went behind her back and told her mom because during our two years of friendship, I had gotten to know her mother very well.
Given that she is a top celebrity that is in the limelight, how do you cope with the reports about her in the media?
Some of these reports give me cause for concern. I just wonder why people would go out of their ways to imagine things. For instance, there was this recent report in the papers and the internet that she was going to New Jersey , United States to do breast enlargement, so that she can compete with Mercy Johnson. I don't know why people will just sit down and come up with such a story. I just don't understand. Honestly, it amazes me.
Has there been any occasion when you had to take up an issue relating to Nollywood with her?
Yes, when she played in the movie, Prostitute. That was the film where the producer showed a purely naked woman with her nipples, her buttocks and all that. She didn't know and we bought the film like any other person and watched it. When I saw it, I asked her 'what is this!
That definitely can't be you'. Of course, I know my wife's breasts and body very well. What I saw was different; besides, the lady who was used for that shot was a lot darker in complexion. Immediately, she called Kingsley Ogoro, who was the producer. She said: "Kingsley, you never told me you would show something like this. Why did you do that?' I also spoke to him and I told him it was unprofessional to deceive your artistes after you have finished a movie.
Is it safe to assume that your marriage has become immune to the sort of problems that cause marriages to fail?
Nothing can shake our marriage though hack writers have been making strenuous to tear us apart. If you have been in this media business since ten years, you'll know that they have tried. There is no kind of story that they haven't tried. I try to buy every magazine that has her story, either good or bad. I wonder why they continue to try.