WHAT YOU DON'T KNOW ABOUT, KAFFY, THE DANCE QUEEN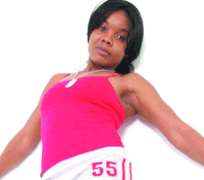 Kafayat Oluwatoyin Shafau are the real names of the dance queen popularly addressed as Kaffy. The Guinness Book of Record Best Dancer Bearer, who dazzled all and sundry a few years ago with her mesmerizing dance steps has an other side a lot of people don't know. Aside music which she is said to be considering taking advantage with her two single releases, Kaffy, we learnt, is a woman with a heart of gold.
Information at our disposal reveals that, Kaffy who has a duplex in Ajah area of Lagos, has since filled the place up with her dancers both male and female. The good thing about the house is that, the mother of one, Kaffy, has made it a point of duty to stock up her kitchen with all kinds of food items for her dancers and visitors. "She is being a nice boss to us. In fact, she has been responsible for our upkeep right from the very first day we all got here." One of the dancers told us anonymously.
The dancers are said to have regarded the dance Amazon as their god whom should be served with all humility. Kaffy has a guy Musa who runs things on her behalf whenever is not around. She is always in company of the Musa who. , we were told, often regales her of the activities of the 'house' whenever she returns from her outings.