Afrobeats Singer Dandyy Releases New Rhythm & Bounce Single, Barazana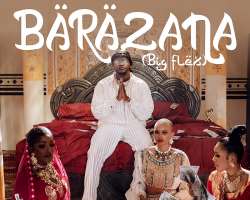 Rising Afrobeats and Afrofusion artist, Dandyy, is thrilled to announce the release of his much-anticipated new single, "Barazana." Fusing his Northern Nigerian roots with the bustling Lagosian culture, Dandyy unique sound is set to leave an indelible mark on the global Afrobeats and Afrofusion landscape.
"Barazana" stands as a testament to Dandyy immense versatility and creativity as an artist, offering an innovative blend of upbeat rhythms and memorable melodies. This single is primed to connect with audiences on a global scale, further solidifying his reputation as a groundbreaking force in the music industry.
The release of "Barazana" comes on the heels of Dandyy preparations for his debut EP, "Lagos Boy." The forthcoming EP is poised to be a vibrant exploration of African culture and its rich diversity, showcasing Dandyy extensive musical range and artistic prowess. Through his thought-provoking music, Dandyy addresses pressing social issues and reflects on his diverse background, demonstrating his depth and skill as a musician.
Barazana is the first full taste of what Dandyy has to bring to the culture, a thrilling introduction to his all-encompassing artistry.
With several acclaimed singles already under his belt, including "Pariwo" and "Dat Girl," Dandyy has rapidly emerged as a beloved figure and rising star in the Afrobeats and Afrofusion realms. His charismatic stage presence, infectious energy, and unforgettable live performances have garnered rave reviews and secured headlining spots at numerous high-profile shows and festivals.
Barazana calls on listeners to move their bodies to the bounce, its lyrics and the artist's vocals doing all the coaxing. The single is poised to reach lovers of dance, rhythm, bounce and good music as Dandyy.
Download/stream Barazana
https://hyperfollow.com/dandyybarazana