American-based Kenyan Rockstar Benking The Artist Drops Long-AwaitedVisuals For Vumilia (My Year).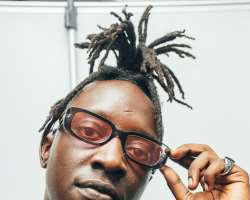 Benking the artist, a Kenyan musician originally from Nyahururu and well known for being the rockstar figure in Nyandarua County, combines Kapuka, Afro, and trap to create music that is full of mesmerizing instrumentals and somber simplicity.
About the song
Vumilia has a chill afro-pop vibe with a benga guitar rift that evokes a feeling of motivation. Whether it is a morning jog or you are feeling low, Vumilia will inspire you and remind you where your dreams can take you. Benking wrote Vumilia when he was going through a period of uncertainty in almost all aspects. Little did he know it was the inspiration he needed to balance his business, music, and family.
BIOGRAPHY
Benking's music journey started in Atlanta and eventually bridged the gap back home to Kenya. Benking seeks to combine various genres to create new, distinct sounds not found in music, influenced by his upbringing in two different environments.
"I am moved and motivated by the impact that my music and farming have in both communities that I am a part of. Which is what inspires me to continue creating," he says
The Nyandarua rockstar has released his much-awaited single VUMILIA (MY YEAR), a follow-up to his last single "Slow Down." The new single features extras in the official video, including G5 Crew (ATL), Wizzo Tano Nane (NBO), Lil Baby (ATL), Boutross (NBO), Johnny Dang Rampage Crew (NBO), Winnie Harlow (Canada), and Shappaman (NBO).
The new single was produced by Aymixx Beats, and the video was shot by Averything Media.
Watch Vumilia ON YOUTUBE
Benking The Artist - My Year ( Vumilia )