Mercy Johnson's "Dirty Skin" Washed in Germany?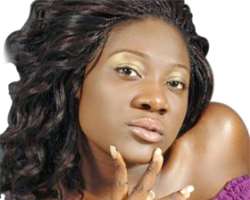 The allegation recently that the Nollywood actresses Ini Edo (the wife of the America based Philip Ehiagwina) and Tonto Dike were into woman-to-woman affair as was awash in the media has not skipped my head yet another salvo was heard. This time, it was that Mercy Johnson whose traditional wedding was fixed for 17th August, 2010 just returned from Germany to Nigeria where it was said that she went for skin washing in one of the German best beauty clinics.
Read the report, "Controversial Nollywood Actress, Mercy Johnson has just breezed into the country from far away Germany. Mercy we learnt was in the country for a while to wash her skin from some reputable beauty clinic. Before now, she has been labelled "dirty skin" by some fans and foes".
Other peddled news against Mercy before that was that she acts in mediocre films and is highly paid. She was mentioned among other notable actors and actresses, according to the reports, in the Nollywood extension in Asaba area of Delta State, that has made a whole mess of the film industry in Nigeria with their constant poor production quality given to them by some amateur marketers to achieve low-budgeted film with recycling of baseless and untreated stories, has been held responsible for the inferior movies featuring stars like Jim Iyke, Mercy Johnson, Tonto Dike, Olu Jacob, Ini Edo and many others... Names of directors who fall in this category include Solo Amaco, Chdi Chijioke and others...
However, whatever "dirty skin" meant to those calling Mercy such, what is essential is that she is attracted to many of her fans, but foes will not accede to this. I am not interested in whether she travelled to overseas or not to wash the "dirty skin", what I am interested is to correct a point here that the quality of one should not be rated by the person's physical outlook but by the person's inward look. And we all must not look the same. (Jealousy dey kill some people). However, I am not in the best position to talk about this damsel called Mercy inward look, but I believe that the voice of people is the voice reason, but the voice of one person could be the voice of dicey.
My recent article titled, "Mercy Johnson: Settle Down Now and Forever" stands a better chance to explicate to critics how Mercy is rated in the eyes and heart of her 'true' numerous fans scattered all over the world, by the responses that article garnered. People see Mercy as a natural beauty and good actress too. They say, "More power to you, Mercy Johnson."
Mercy is surely the best female Nigerian actresses; she simply fits into any role and stands out amongst the other actresses. Mercy, people are saying, "how I wish your hubby will be magnanimous enough to allow us your fans to continue watching and enjoying your acting but if he can't, nobody in his right senses will blame him. Mercy, I wish you a blissful and fruitful marriage."

Pray, that Mercy were to be an engineer or a medical doctor, lawyer, "then you tell me she would also give up her profession because she got married. The only legacy of the Nigerian movie industry is that it's making the hotel industry to boom, and provides easy access to our congressmen and women. The Mercy Johnsons of this world and many before her to me personally only acts as whistle blower the manner we have relegated science and technology to the gutter."

Wow ! "Some people are really sick. I wonder anyone in the right frame of their minds who wouldn't be happy for this young lady? Clearly, a very talented and an original in her own rights, she is a unique personality and not a copy or wannabe seeker of easy rides. I guess your preferred unfortunate scientists and lawyers that you cry for, did not have the luck of being born with the right body shape to behold and die for, skin tone and shade to perfectly blend all things, en vogue accents to speak and command, sparkle in their eyes to hypnotise and charm, and most especially the lucky stars balanced firmly on their forehead to lead and direct them throughout their journeys on this earth? Too bad, for you then. Congratulations and God bless you, Mercy Johnson. You go girl."

People are saying that they wish the Kogi damsel well in her marital life. "I like her acting. I just wish she would wear clothes her size and stop shoving her watermelons in our faces. The men may like it but as a heterosexual female, I don't appreciate it.... No mind the haters and psychos who will transfer their insecurities and inadequacies on an innocent girl, who is going about her daily life and earning a living. I guess they have a choice option of watching a Disney movie instead of hers. I am sure in real life and on screen; they are not a leading man for any real worthy woman to act with. Satanic people.... You will forever shine, keep on the good work you are doing and good luck in your marriage."

Mercy, "you are simply too good in your acting skills to be true! Ignore those critics, believe more in yourself. Remember where you are coming from and going. Your fans are more in tune to you than you realise presently. Stay away from negative issues. Best of luck."

Notwithstanding, yours truly was not the person who said that Mercy "this is the best actress Nollywood has ever produced; she's a dark horse followed by her is Genevieve... I stressed the actress because she actually does the job she gets paid for... watch her movies she's a highly talented actress."
Or am I it who said? "Johnson, I have watched several of your movies and seen how you can change from one character to another. You are great. However, I feel you should not have accepted The Keziah role, NKalubo Dickson from Uganda.... I guess you are outstanding and I am feeling your style, flow, nature and ultimately your amazing beauty. Always, I check you out."

From Aba to Alabama, from Garbon to Ghana, Mercy Johnson is the issue. "I simply think you are the best. I am one of your biggest admirers in Ghana (Kumasi is my area). Never mind critics. Please take the lessons in her movies and forget what she wears. Ghanaians love and admire you. George Asafo-Adjei(Kumasi).... Mercy, just finished seeing one of your movies and I quickly got into the net to read about you. I think I like your perception of what life should be for a lady in your career. Keep up with the smart work on screen. You just added to the number of fans in your list. Write me on my email... and I would spend more time to tell you where I see you in the nearest future. Be positive with what drives you. God bless you. Mercy, you are always great in your acting roles'. Keep it up."

"Mercy, for her great talent, she works hard on her crafts. I would like to say thanks to," someone said. "But it is time for Nollywood to start going to the next level now: more creativity please. The industry has the talents available; we need to see more challenging roles for these stars."

People are translating Mercy in many languages. "My dearest Mercy, je t'adore – definition of a true actress, full of talent (can act any role) both good and evil. I like your style and your shape they kill me. Keep it up," Queen Otoghile.

While few people say Mercy wear "dirty skin", many people are killing themselves for her. Please, hear this: "I really wish I could get to meet this charming actress. Mercy, you are a queen and also a good actress. All grace (more than grease) to your elbow. You are always my best... Mercy, you are simply the bomb. You are one of the best actresses in Nollyhood, Ghanaians love you, so my girl just keep the fire burning and the sky will be your limit," Sefakor.
"Mercy Johnson is the most wonderful actress I have never seen in the world. She is pretty, beautiful, sexy and many more. My contribution to her is that anybody that has her contact should let me know so that I will invite her to my hotel where she will open my hotel not for any other thing but also to act for me in my ceremonial home as well. My email is.... Personally, I think you are a determined diva who knows where she is going to, so keep up the good work. I wouldn't forget you and please don't forget your root. Last word, "bi ode ba ti le pada wale o," Chao Sista.
Mercy Johnson, "keep it up girl the sky is your limit. Don't mind what people say because they will always have something to say either positively or negatively. We're proud of you. The most important thing is that you are happy with yourself and what you are doing. Keep the good work up. Never listen to what people think or say about you. It's all about your thing and about yourself. You are the best... In terms of acting, you are sweet honey; I really love and cherish your way whenever I watch you on TV. I will advise you to keep it on no matter what people may say as long as you have specified your mind on your family that they should not take it otherwise. I don't have much to say only to tell you to be what you wish yourself to be and God in his infinity will grant you peace and protect you forever and ever Amen."
Odimegwu Onwumere, Poet/Author and Media Consultant, is the Founder of Poet Against Child Abuse (PACA), Rivers State, Nigeria. Mobile: +2348032552855. Email: [email protected]