ACTOR, PRINCE UCHE, DISCHARGED FROM HOSPITAL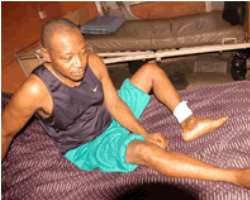 Prince James Uche
Temporary respite has come the way of Nollywood actor, Prince James Uche, who had chronic leg cancer. He has been discharged from the hospital and now goes for treatment as an outpatient.
However, the woes of the actor are not over, as a medical bill of over N200, 000 hangs on his neck. Saturday Sun gathered that he was only discharged from the hospital, without paying his full bill, on personal recognition and because the medical director of the medical institution took pity on him.
At present, Prince Uche is squatting in a friend's house at Ijesha, Lagos, where he is hoping that help would come from kind-hearted Nigerians. He said that he still needs help to buy medications and other necessary items, as well as offset his hospital bills.
'My brother, I thank God for today. I am just preparing to go for treatment. The doctor said that my leg is healing and adding flesh. I thank God that there is no need for operation. I am recuperating in the house of a friend, Torino. It has not been easy. Please, I need help so that I can get back on my feet and get back to work,' he said.
Although the actor now limps and a shadow of his former self, he thanked those who visited him in hospital and those who assisted, in one way or another. He also solicited for assistance from Governor Babatunde Fashola who has a reputation for helping people in this kind of condition and other Nigerians.
Those who want to assist Prince Uche could send money to his Zenith Bank account, number: 6025305686.