Wao!! Elon Musk Is A Hybrid Clone: Kanye West Accuses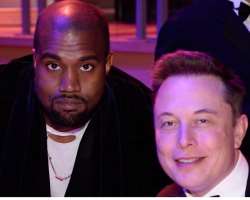 Kanye West has come out wild to accuse Elon Musk, Twitter CEO of being a hybrid clone. This was revealed few days after his Twitter account was suspended for inciting violence.
He maintained that Elon Musk is half Chinese. He proved this when he said a mating combination between south Africa and Chinese will breed a half Chinese like Elon.
West wrote: "Am I the only one who thinks Elon could be half Chinese? Have you ever seen his pics as a child? Take a Chinese genius and mate them with South African super model and we have an Elon.
"I say an Elon because they probably made 10 to 30 Elons and he is the first genetic hybrid that stuck..Well let's not forget about Obama..."
In reaction to this, Elon Musk took to his social media to reply Kanye's post by writing: "I take that as a compliment."