Insightful! See How Nigeria Scam People Through Education - Rapper Analyses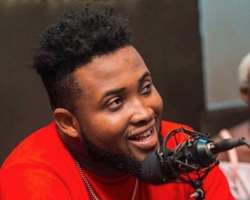 Oladipo Olamide Emmanuel known professionally as Chinko Ekun, is a Nigerian rapper and songwriter. He has revealead that education is not really a yardstick to success.
In Nigeria it's a common to see people speak low of education maybe because of the lack of a working system. It is even a common expression to hear that education is a scam.
Owing to this, singer Chinko Ekun tweeted that Though education is not a scam which is contrary to widespread belief yet it is not a yardstick to success.
According to the singer to live a ballanced life, a child should be exposed to the fact that other aspects of life like sports, skills, talent are also crucial.
"Education no be scam but it ain't the yardstick to success .Two ways to interpret or decipher:A child needs to be learned to catch up with technology and how the world is evolving .A child should be taught that a living can be made via sports , skills , talents and more…"
It's however perceived that education is only a scam as people believe it is because they see it as a yardstick to success.