EFCC: Tough Time Awaits Bribe Offenders, Parades 2 impersonators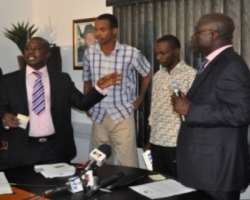 PHOTO: L-R EFCC SPOKESMAN, FEMI BABAFEMI, IMPOSTOSTORS-OLUWASEUN AMOSUN AND SALISU SAMBO GONI, AND EFCC DIRECTOR OF OPERATIONS, STEVE OTITOJU AT THE EFCC ABUJA OFFICE IN ABUJA TODAY, JULY 29, 2010.

ABUJA, July 29, (THEWILL) - It will no longer be business as usual for givers and takers of bribes as the Economic and Financial Crimes Commission, EFCC, has warned that it will henceforth drag both parties to the crime to the court for prosecution.
The warning was issued Thursday, when the Commission paraded two suspects who were accused of impersonating officials of the EFCC to extort money from Nigerians.
Before his arrest, one of the suspects, Salisu Sambo Goni had paraded himself as an EFCC official as well as a Deputy Inspector General of police while his co-accused, Oluwaseun Amosun had been parading himself as an official of the anti-graft agency to harass and extort money from members of the public.
EFCC's Director of Operations, Mr. Steve Otitoju while briefing the press said that in view of the worrisome dimension the menace has assumed, the Chairman of the Commission, Mrs. Farida Waziri had already directed that henceforth, operatives would not only arrest and prosecute impersonators but those who part with money under the guise of giving EFCC officials money to stop their probe.
"The Commission has to get to this level because information and complaints getting to the leadership of the EFCC daily indicate that these unscrupulous elements assume the identity of notable officials of the agency to harass people across the country, some of who unfortunately, for fear of being probed by the EFCC fall for their bait and part with their money," Otitoju stressed.
The case of Sambo, according to the DOP, was reported to the Commission on 29th of June 2010, via a written petition by a car dealer, Shehu Ibrahim who had already paid N860, 000 to the fraudster before realising that he was a fake EFCC official.
The petitioner claimed that some time on the 23rd of April, 2010, the suspect came to his office with a red 307 Peugeot car and flashed an EFCC identification card claiming to be an operative from the Commission and demanded the sum of N860, 000.00 threatening that he was being investigated by the Commission.
Ibrahim's claim which was verified by EFCC operatives showed that the sum of N650, 000.00 was deposited into the suspect's GTB account and another N210, 000.00 given in cash.
Upon the report of the incident to the Commission, Otitoju said the Chairman promptly directed that a discreet investigation should be conducted on the case. The findings by a team of operatives handling the case led to the arrest of the suspect on 19th July, 2010 at the Bauchi's branch of GTBank.
On 20th July 2010, EFCC operatives left for Bauchi to take over the suspect and later executed a search warrant at his residence at block 11, Borno House, Gwarimpa Estate, Abuja.
During the search, the following items were recovered: 11 deposit slips of various banks; one tenancy agreement bearing Salisu Sambo of State Security Service, Maiduguri; one transfer letter of Department of State Security Service in favour of Salisu Sambo, signed for Director State Security Service, Bayelsa State; a telegram letter introducing Salisu Sambo of Department State Security Service for auction of Peugeot 206 car signed by B. Mohammed for Director of State Security Service; auction letter of State Security Service in favour of Salisu Sambo, letter of Borno State Security operatives forum inviting Salisu Sambo of State Security Service to a meeting; six motor vehicle number plates.
Other items recovered are: a photocopy of NYSC discharge certificate bearing Salisu Sambo; vehicle registration book of Nissan Jeep bearing Ladan Danjuma; 4 files of Nigerian Police Force recruitment; letter of offer of low cost house in favour of Salisu Sambo of Department of State Security Service; identity card of Ministry of Works, Gombe State bearing Salisu Sambo; a purchase receipt in the name of Deputy Inspector General of Police Uba Bala Ringim; identity card of National Drug Law Enforcement Agency belonging to one Dominic; a photo calendar of Deputy Inspector General of Police Uba Bala Ringim.
Otitoju also said that only last week a multi millionaire businessman placed a call to him to acknowledge a purported SOS text message from him and promised to respond to his request of financial assistance following the damage to his house by flood.
"I was shocked to hear a thing like that as I never made such request and will never make such request. My house was never swept away by flood. I immediately told the big man that my name has been used by fraudsters to extort money from him. This is just one out of several such activities of fraudsters," he said.
While Sambo owned up to the crime but blamed the devil, Amosun said his bank account was only used for the crime as he was not the real perpetrator of the fraud. Otitoju said the suspects would be charged to court soon.