Actress Nkechi Blessing Sunday Distributes Dildo As Gift At Mum's One-Year Memorial Ceremony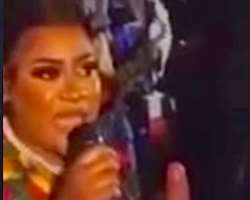 Actress Nkechi Blessing Sunday celebrated her mum's one-year memorial ceremony on Sunday, September 25 2022. Her guests who are 'single' ladies were presented with an unusual of 'dildos' otherwise known as 'vibrator' or 'fake di*k'.
According to wikipedia: "A dildo is a sex toy, often explicitly phallic in appearance, intended for sexual penetration or other sexual activity during masturbation or with sex partners..." Wao!! What a befitting 'memorial ceremony gift"
As was expected, the single ladies uninhibitedly rushed to receieve the dildos.
It was gathered that Nkechi used the occasion to educate single ladies about the benefits and significance of dildos to their sex life.
She however stated that she was not trying to undestimate the value of men because she has one; nevertheless, the sex toy could enhance life.
Her statement reads: "I no tell you say men na scum because I have a man; but if you want to help yourself in case you don't have a man ... This is my souvenir for single ladies. This is the head of single ladies."