Popular Actress Confesses Reason She Dated A Man He Wouldn't Like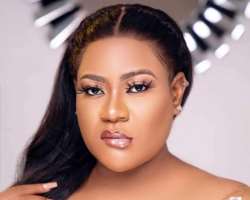 Popular Nollywood Actress, Nkechi Sunday Blessing, has revealed in a recent TVC programme the reason she dated a man whom she would not like.
Speaking on TVC's programme known as "your view" she decided to date her most recent ex-lover, Opeyemi Falegan simply because she wanted to show off to her American ex, Mike Adeyemi who was cheating on her.
she said ;
"I wouldn't want anybody to make the mistake I made.
I recently broke up a relationship with my ex who is based in America.
In the heat of the breakup, we were still trying to fix things and I discovered that he was posting a new girl.
I realized there's this man asking me out, in all ramifications, he's a fine man but he's not the one i'd like to date but I ended up in a relationship with him because i wanted a rebound.
A lot of ladies make this kind of mistake.
She also averred that she is no longer with the man Hon. Falegan.
She said he loved her more and when she decided to try to level up to the love he had for her, he messed-up.