Empress Njamah, Remorseful Over Updates On Ameh Death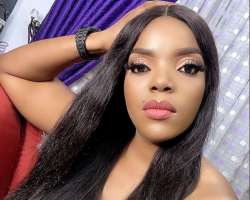 Its no longer news that popular Bollywood actress, Ada Amen death was as a result of depression. Before her death, the character of Efe in the sitcom, 'The Johnson's' had lamented over her mental state of health.
Till date, her death had continued to be a topic of discourse on social media after her family spoke up
The deceased's family recently shared a post where they complained of Empress Njamah opening a mourning house without their consent
Empress, who is still in mourning, took to her page to react to their claims and fans have reacted online likewise.
Ada Ameh's death raised empathy in the movie industry as people mourned her and spoke on the things she passed through.
Reacting, Empress simply said; "lt is well. "
Taking to her social media page, Empress reacted to the claim in a post that has since gone viral.
The film star eulogised her late friend by posting a video of their time together as she noted that the she was surprised about the things she was seeing online.
According to Empress, a lot of things have been brought to her knowledge but it is not the right time to speak because she wants to mourn in peace.
She however noted that it is really a pity and that there is time for everything. Empress added that the time for her to talk will surely come.
Internet users react to Empress' reaction to Ada Ameh's family members. One, Princess Adaeze writes: "She has the right to mourn her friend."
Another, Afunsho supported, "It's now you guys want to claim territory ori yin ti gba le."
Nellynells accused the deceased family of negligence in his post thus;
"Where were they when Ada needed them."
Well, all said and done. Rest in perfect peace, Aunty Ada.