Regina Daniels Eulogises Mom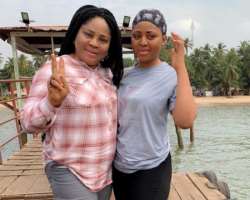 Former actor turn businesswoman, Regina Daniels, gushes over her mother, Rita Daniels while referring to her as her role model.
This came after Rita had taken to Instagram to share a powerful caption to a photo of herself with her daughter rocking identical outfits.
"When you are a mother, you are never really alone in your thoughts. A mother always has to think twice, once for herself and once for her child," she wrote.
Responding to the motherly love, her daughter, Regina Daniels took to her Instagram to reshare the image as she ascertained her mother as her role model even before birth.
"My mother was my role model before I even knew what that word was," she stated.