ZONING OR NOT, VOTERS WILL DECIDE — BALA, JONATHAN'S MAN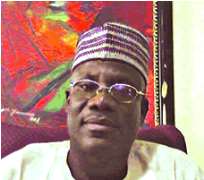 Bala
As the controversy over zoning rages, Alhaji Buhari Bala, a two-time minister, in the late General Sani Abacha and General Abdulsalami Abubakar administrations and supporter of President Goodluck Jonathan, says that the president should contest next year's election. He, however, said that even if the president decides to run, it is still left for Nigerians to decide whether he would remain the occupant of the office or not.
The former minister said that those who do not want the end of zoning in the Peoples Democratic Party (PDP) can defect from the party to actualise their aspirations. He also said that the country should no longer be ruled by people who are above 70 years.
He spoke on these and other things.
What is the idea behind this political summit?
We are all aware that the current debate in Nigeria is about zoning, power sharing and rotation, with special emphasis on zoning. We feel as Nigerians of northern extraction, it affects North more than any other geo-political zone. So, we came together, all the states from the North, including Abuja, to find a way of discussing the issue and finding a way forward on how the northern bloc can speak with one voice. That is how we came together and agreed at the end of the day to hold the summit on July 15, 2010 in Kaduna.
How did you determine those to be invited?
Before we even sent out our invitation cards, we met with so many interest groups in the North. We met the Arewa Consultative Forum (ACF). We met with the Middle Belt Forum (MBF), The Northern Union (NU), with the youths and women organizations. So, we actually reached out before we even went to Kaduna for the summit and the distribution was done in such a way that it reached out to all interest groups. Some states were given 50 delegates. Some were even given more than what was allotted to them. So, you can see that almost everybody was represented at the summit.
When you say interest groups, what do you mean?
Interest groups are those whose opinions or input are required on northern issues and I think there is no northerner that is more northern than the other, whether you are a General or a corporal, so long as you are a northerner. So, invitations were issued to the states and it was the responsibility of the coordinators, at the state level, to issue these cards. And from what we saw in Kaduna, we are very satisfied that the cards were distributed.
Some people came to the venue and claimed that they did not know what they came there to do…
I don't know. But I won't go to a place where I don't know what I am going there for. I read in one of the newspapers, The Sun, that Prof. Iya Abubakar said he got his invitation from one of the co-chairmen. In the first instance, I think he is from Adamawa State. The coordinator of Adamawa State, if at all Prof. Iya Abubakar is a statesman from the state, would have got his invitation card from him. He should please find out from the Adamawa State delegates why he was not given his invitation.
Talking of a Northern Political Summit and the political interest of the North, would you say it is complete without personalities like Buhari, Atiku and IBB?
I believe we sent some cards to The Buhari Organization and also the ACF. Some cards were sent to so many interest groups. Some had observer status and some as participants.
Did you send invitation cards to General Babangida and the other gladiators in the North?
What do you mean by gladiators?
The aspirants
Well, there are so many aspirants. If you continue to send out invitation cards to all aspirants, there would be no place for people who will contribute to the debate. And I am sure these aspirants you are talking about, also belong to some states and invitation cards were sent to them through their state coordinators, who we believed, did the right thing.
It is like the outcome of the summit was pre-meditated. Would you agree with that?
No, I don't agree with you. This kind of observation was raised before we even went for the summit. It was during one of our encounters with the ACF. Somebody raised that issue saying he hope this time it would not be the usual northern elite trying to deceive the unsuspecting members of the public again with another agenda. There wasn't any pre-determined position. You may have listened to the presentations at the summit. The communiqué issued at the end of the summit was not outside what was discussed. So, everything went on in a proper way and the communiqué was just a summary of what took place.
What were the criteria used in arriving at the conclusions you got at the summit?
Of course, the submissions were made. There was a communiqué committee set up before the summit and they sat down and agreed on the pattern of the communiqué.
I asked this question because some people were of the view that the outcome of the summit was just too sudden and that just as people were going, the communiqué was out already.
No, it wasn't pre-determined before the summit. It was done there. There were experienced people that were asked to write the communiqué and they did a good job.
Are you satisfied that you got what you wanted?
Of course, that outcome was fantastic because the whole idea was to reach a consensus; to take a common position because that is what democracy is all about. It is about coming together. Democracy is about give and take. So, people of all shades of opinion came together and they all contributed to the debate. At the end of the day, we arrived at a reasonable agreement that is made known to everybody.
At the end of the day, would you boast that this outcome is a true reflection of the North's thinking?
I believe so. As Nigerians, I think we should give recognition to good performance, ability to deliver the dividends of democracy, not your tribe, your colour or where ever you come from. So, the question of zoning or given position to somebody because he wants to get presidency on the platter of gold does not arise. If any northerner feels he is equal to the task, let him come out. Nobody is saying don't come out and contest. They are almost 51 vehicles that you can take and fly even if you lose in PDP. And again, we are only advising the PDP to go back and look at it because it is a PDP affair; I mean something out of the PDP. That is why we are so concerned.
Look, sorry to take you back.
There is this question that arose during our meeting with the ACF. One intelligent guy asked us, 'when this issue of zoning came up, was the North contacted?' He asked us that question and of course, we had no answer to that question because it was just a clique from the North that sat down with their own compatriot in the South and came up with zoning. But this time round, we want everybody to be involved. We want people to be part of that decision. We don't want a situation where some few people will just sit down in a room and take decision.
Who funded the summit?
Well, as far as my state is concerned, you can find out from my governor. He did not give me a dime. I am from Kebbi State and our team was led by General Ishaya Bamaiyi. All the big shots from Kebbi were there, including 11 commissioners and almost all the council chairmen. But I did not receive a kobo from my governor. So, everybody took responsibility for his own trip.
So, who funded it?
You think a group is like an NGO? It has nothing to do with government. We came together because we believe in the cause and everybody contributed. I paid for all the people that came from my state, including their hotel accommodation. You can go and find out from them.
You are a member of the organising committee and you paid for others. Who funded this summit?
For my own state, I did.
And who funded delegates from  other states?
I am sure it was the state's organising committee.
Are you saying you don't know who funded the entire summit?
No, I can only talk for my own state. I paid for it. Ask my governor if he had given me a dime. He did not give me a kobo. I did not even see him before the summit.
What would you say about the presence of government officials, like the Minister of State for Information, Labaran Maku, the FCT Minister, Bala Mohammed and others?
Well, being a minister does not exclude you from contributing to political issues.
The impression is that government funded the summit?
I am not aware of that and being a minister does not give you the latitude to have money to just waste like that. I don't think these ministers have money to waste.
So, you wasted money?
I mean, they don't have money to start dishing out. I funded that of Kebbi State and I can prove that. You can go and find out from the governor of Kebbi State .
Personally, what is your take on the issue of zoning?
Well, my position is that zoning is not an issue as far as the existence of Nigeria is concerned. One, we are made to believe that it is also not in the constitution of Nigeria. Anybody that qualifies under the constitution of Nigeria should go ahead and contest. There is nothing wrong with that and nobody should be forced out of it. That is my position.
From your communiqué, it looks like you are saying that the fact that Yar'Adua is dead does not invalidate the joint ticket. Would I be right?
It is a joint ticket because when we voted in 2007, we voted for Yar'Adua and Goodluck Jonathan. He is still part of the administration and he has every right to go for a second term. But don't forget that even when the first proponent of zoning agreed, the criteria is after the first term, before you qualify to move to the second term, you must prove to Nigerians that you have delivered and that you have scored above average. And that is why Jonathan has to prove to Nigerians that he can do the job.
But the conclusion of the summit have already given him the green light to run even before…
Of course, he is free to run. What I am saying is: it is one thing to run and another thing to be voted for. If he does not do well, Nigerians will not vote for him even if we want him to contest and his performance is below expectations. It is up to him to prove that he can perform.
Can you give me your assessment of President Goodluck Jonathan's government?
Well, it is too early to assess his administration. But so far, he has not done badly.
But it is not too early for you to say he can run?
Yes, we are talking about constitutional issues. He is a Nigerian, just like you and me. So, he is free to contest. Is it because he is an Ijaw man and not a Fulani man? He is free to contest. I attended a Unity School. My best friends are from the South. I met people like Donald Duke and so when I was 11 years, we met in the same class. So, what would I tell them if they see me supporting an Hausa man because he is from my side. I mean it is absolutely wrong. This is not the time for us to start thinking about North and South. We will look for the best. If the best is coming from Ijaw, Yoruba or Igbo, we will go for him. My college father was a younger brother to Major Nzeogwu, the one that killed the Sardauna, Abubakar Tafawa Balewa. He was my college father and we still relate and interact. Nigeria of today is not Nigeria of yesterday and we should not allow people to just come and start telling us that at the age of 70, they will start ruling Nigeria again. Let's give the younger ones a chance.
Who are those above 70 years?
I mean once you attain certain age, you should give opportunity to younger ones to come and deliver what they have in the offing. That is my own position.
Let me ask you a very fundamental question that has to do with individuals and I want you to answer me sincerely. IBB, Buhari and Atiku are interested in running for the 2011 presidential poll. What do you have to say about this?
They are Nigerians and they have every right to contest. They are all qualified to contest. Nothing can stop them. What you people fail to understand is this: it is one thing to contest, and it is another thing to win votes from voters.  I can take my votes to anywhere. So, let them come out. There are up to 51 political parties. So, if you are not picked from the PDP, you can go to another party and fly their flag. It is up to you to convince Nigerians that you can deliver. What Nigerians and in particular northerners are interested in is dividends of democracy.
Are we likely going to have a free and fair election in 2011?
That is a very difficult one.
Are there structures in place to guarantee a free and fair elections?
It is difficult. It is garbage in-garbage out. If the voters' register is not revised yet, I am sorry, we are not going to have a credible election. You must have a complete and better register. The data base must be there. It is not available now. I was made to believe that even the computers that were bought in 2007 for voters review exercise, have all disappeared. So they have to now procure up to 120, 000 computers. Where would they get that. There is no company in the world that can produce 120, 000 computers within the next three months. It is impossible. You now put in the software required for the exercise. Look, it is almost impossible really. They at the INEC have a lot of work to do. And don't forget a lot of damage has been done already. The man at the helm of affairs there has no house. This monetisation thing causes problem. He has to go and look for a house in Abuja. I am sure that is one of his priorities for now and I understand he is going to be given money and not a house to stay. So with six million naira, what is he going to do with it. Where will he get a house in Asokoro or Maitama with six million naira. Before he settles down, the time is gone. So let us look at this area too. He is a very responsible person.
The summary of all you have said is that we are likely not going to have a free and fair election in 2011?
Free and fair elections is what we are praying for and that is one of our item on the communiqué; that we pray and hope that Nigeria conducts a free and fair elections and we can only have a free and fair elections when we have a proper election.
Let me take you back to zoning, because that is an area of interest to Nigerians now. Zoning is said to have been adopted in order to forestall class marginalization and to allow those who think they are marginalized to have a say in government. Don't you see any merit in this thinking?
Well when it was contrived in 1998, it was done, like you said, to please a certain section of the country. It was really in order because of the annulment of the June 12, election and don't forget, before President Obasanjo took over, virtually all the heads of state, right from Buhari, Babangida, Abdulsalami Abubakar, were from the North. And of course, the election that took place in 1993 was considered to be best ever in Nigeria. Again it was annulled. So there was need for us to concede power to the South. In terms of numerical strength, the North has the advantage, but because we needed peace in the country, I believe that was why they agreed among themselves to allow them to produce the president. But you see, it is not a question of the president coming from the North or the South. It is the performance of the president. What is the president going to give us from the North? That is our concern. All we need is a situation whereby we get the dividends of democracy. So, zoning as at that time was okay but now, I think we have gone beyond that.
What has gone wrong in the interim to change that equation?
What has gone wrong is the sudden demise of the president. Yar'Adua died and it was a joint ticket, himself and Goodluck Jonathan, and there is a constitutional provision that, when a president dies, the deputy should take over from him and nobody should have stopped it. It is a joint ticket. A man can zone, but when God does His own zoning, nobody can stop it.