MY FEARS FOR SIASIA – IKE SHORUNMU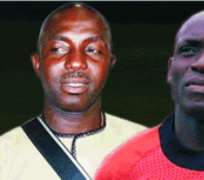 Siasia and Ike Shorunmu
Bad start! That was what Samson Siasia made with Heartland of Owerri last weekend when the Naze millionaires played host to African club of the century, Al Ahly, in the CAF Champions League. Sia One as the youthful tactician is popularly called had few days before the game signed a mouth watering contract with the Imo State government financed soccer outfit.
A top official of Imo State government, who unveiled Siasia to the media said the coach's mandate is to lead Heartland to conquer Africa this term after the club failed to do so last year after coming very close. Heartland, it is recalled, lost to top Congolese side, TP Mazembe in the final of the money spinning competition last season.
One man that is however, worried over Siasia's move to Owerri is his close pal and former, Ike Shorunmu, who, himself had a stint with Heartland early this season. Shorunmu in an exclusive chat with Daily Sunsports said things must change in Heartland for Siasia to deliver.
In Shorunmu's words: 'I spoke with Siasia just before he took up the job. Quite honestly, I wish him well. First and foremost, he is my friend and secondly, I see the Owerri job as a national assignment, so he needs the support of every Nigerian. But my big worry is the way the club is run. There must be some reforms if Siasia is to succeed. The players need to be better motivated and there must be a new orientation. I just pray it will not be the same old story.'
Shorunmu said Heartland has got quality players that can re-enact the Enyimba feat of 2003 and 2004, when the Aba giants broke the nation's CAF Champions League jinx back to back. 'Heartland have good players. I can confirm that to you, but doing well in a top flight competition like the Champions League goes beyond having good players. The players must be well motivated and the coaches given a free hand to do their job. The fans must give their support to the team. If everything is put in place, I see Siasia succeeding.'
Shorunmu said the fact that Heartland failed to win their first group stage game against Ahly is nothing to worry about, insisting that the Naze millionaires will get better in their subsequent games. 'It would have been great if Heartland had started with a win, but then, I don't think the draw is anything to worry about. I see them getting better in their subsequent games. The important thing as I said earlier is for the management of the club to give Siasia all the backing he needs to get the players to play good football.'