JIM IYKE IN FACE-OFF WITH GHANAIAN ACTRESS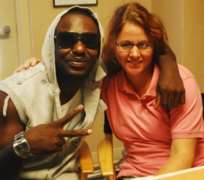 Nollywood actor, Jim Iyke is at present not having the best of times as his attempt at producing his first movie has generated more controversy than accolades.
Fillers reaching us have it that a Ghanaian actress engaged by the Gabon born but native of Anambra State actor, who grew up in an outskirt of Abuja, to star in his movie has threatened to deal with him if he continues to refuse to meet up with the obligations reached in an agreement that led to her playing a semi-nude role in his movie.
Trouble started, however, when the University of Jos graduate of Philosophy, Jim, allegedly said to have reneged on an agreement he made to pay the girl's fee if she could go semi-nude in the movie but shortly after the girl finished playing the role, Jim iyke, we learnt, said he was not satisfied with the end result of her performance.